Washington +170 over Florida
bet365 operates pursuant to an agreement with iGaming Ontario.
BET365 +170 SportInteraction +169 888sport +165
Odds posted at 8:00 AM EST and are subject to change.
Eastern Conference Quarterfinal - Game 3
Washington +170 over Florida
1:00 PM EST. OT Included. This is another great example of the media, a media that heavily influences the public, reporting on a game based on the final score. Panthers dominate Capitals? Really?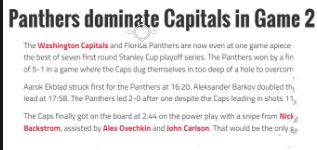 Florida had one high danger chance in the first period. One. The Caps held Florida to seven lousy shots on net in the first and played most of the period in Florida's zone. Coming off their Game 1 win, Washington once again frustrated the Presidents' Trophy winners in the first period. Then a garbage goal late in the period put Florida in control.
Vitek Vanecek allowed 3.48 goals above expected in his two periods of work, according to Evolving Hockey. The lucky and odd bounce on the Aaron Ekblad goal surely plays into that — and it's certainly hard to blame Vanecek for it — but that's a big number for 40 minutes of work. Dude was yanked to start the third.
While the two late-first period goals is all Florida would need, the Capitals did threaten to get right back into it with a power-play goal early in the second period to make it 2-1. However, 30 seconds after that, Mason Marchment would score a goal that Howard Wolowitz could have stopped. After outplaying the Caps for two periods, Washington was down 5-1 and mailed it in for the third, which is the only period the Panthers dominated in.
Don't get us wrong, as we have great respect for Florida, a team with some of the best talent up front in the league. However, they are about the most flawed #1 seed this league has seen in a long time. They have not been the better team in this series, aside from one dominating period when they went in with a four goal lead. They can be pressured in their own end into making some bad decisions. In Game 1, Washington earned a victory and in Game 2, the Caps received a horrible goaltending performance that they could not overcome. There has been nothing "dominating" about the Panthers in the first two games, therefore we'll stick with it at these absurd prices. A definite overlay is this.
Our Pick
Washington +170 (Risking 2 units - To Win: 3.40)