Early leans & analysis Wk 2
NFL Week 2
BEST LINES: Pinnacle BET 365 SportsInteraction 5DIMES 888Sport
Posted Friday, September 18 at 2:30 PM EST
NFL 2020
NFL Week 2
PHILADELPHIA +1½ -105 over L.A. Rams
1:00 PM EST. Week 2 is probably the best week of the season to be betting the NFL. You see, it is the week after the entire universe gets their first taste of the NFL. It's the first time the market gets to assess each and every team and then form an opinion. It is also the biggest over and under-reactions to what the marketplace just witnessed and in that regard, this game checks all those boxes.
The Rams were featured Sunday Night in the prime time spot and all they did was put on a very impressive performance against the talented Cowboys. The Rams go from being a -1½ point favorite over Dallas to the same price, albeit on the road, against a team that just lost to the Football Team.
The Eagles were heavily bet last week and cost a lot of people money. They also cost a lot of folks their survivor entry in the very first week of the season. The Eagles blew a 17-0 lead while the market watched in horror and also watched many Eagles players being carted off the field. We are now the beneficiaries of the reactions to last week but don't take our word for it. Here is the narrative among ESPN's resident experts: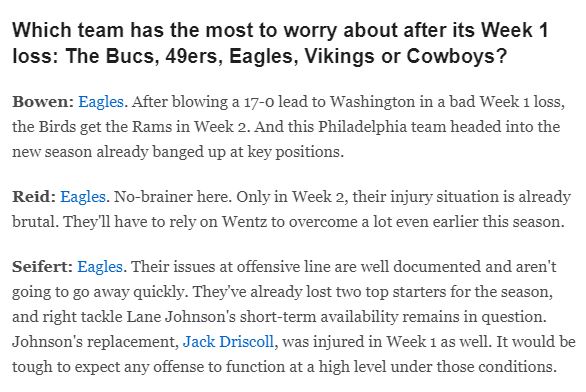 The Eagles injuries are not privileged information. We can assure you that the bookmakers know who is in and who is out and if they are not sure, they don't care. Do you really think you have a "leg up" on the oddsmakers knowing that the Eagles are all banged up? If that's the reason one is using to fade the Eagles this week, that bet may win but we promise you that the line was made with all that knowledge.
Here's some more knowledge. Jared Goff had a QBR of 44.2 last week. Carson Wentz is a wizard without an offensive line to protect him but we're going to trust the Eagles staff to come up with a plan that will see him getting rid of the rock much quicker. What we also know is that the market is going to push this price up even more by kickoff and so we're going to wait until Sunday to see what price is being offered. Play: Philadelphia +1½
Atlanta +4 -105 over DALLAS
1:00 PM EST. Some things never change. The Falcons look to replicate 2019 by trailing in games and asking Matt Ryan to air it out. Atlanta fell behind 14-3 to Seattle in the first quarter. They came within a TD in the second half but Seattle pulled away with a 38-25 win. What's more interesting to us is that Seattle was favored all week and then the "efficient market" hammered the Dirty Birds on Sunday to the point where Atlanta closed as a 1-point favorite. If you bet Atlanta early in the week, you "beat the closing line". The point is that it creates a zig zag scenario on Atlanta this week and that's something we want no part of.
The other side is the Dallas Cowboys, who put on a credible performance on Sunday night against the Rams. In fact, the market believes (and we do too) that Dallas was robbed on the final drive of the game when the refs made a horrible offensive PASS INTERFERENCE call that was surely going to lead to the winning score or at the very least, a game tying field goal. Still, the Cowboys went nose to nose in Los Angeles on a night when the Rams unveiled their new football palace. Dallas' performance did not leave a sour taste to anyone in this market while Atlanta's performance absolutely did.
What the final score between Atlanta and Seattle doesn't tell us is that the Falcons gained more than 500 yards but went for it on fourth down on four occasions and didn't convert a single one. They had two turnovers on top of that. The Falcons also held the Seahawks to only 43 yards on 16 carries. Atlanta played better than Seattle and deserved a better fate but with nine other games going, folks are jumping around all over the place or watching the Red Zone and don't get a true feel of how a team actually played unless it's a prime time game. Atlanta looked sharp but the market will react to an easy loss combined with the Cowboys good showing on Sunday Night Football. Oh, and to all you Dallas fans, let us close with a note from a Green Bay fan:
Hi Cowboys fans, it's your friendly Green Bay Packer fan here. I just wanted to welcome you to the Mike McCarthy experience! You're going to love it! And by love it, I mean hate it and it will cause you to question many of your life choices and probably lead to alcoholism. Play: Atlanta +4
Indianapolis -3 over Minnesota
1:00 PM Thanksgiving came early to the "Land of 10,000 Lakes," as Aaron Rodgers carved up the Viking defense like it was a turducken. The 43-34 final flattered Minnesota, as the Vikes were able to rack up some points in garbage time. Don't be fooled by Kirk Cousins' stat line either because the Packers played a prevent defense with the game very much in the bag. If you watched any of that game, there were major red flags all over the field for the Vikes, but their secondary in particular was a horror show. Furthermore, the Vikings had major problems on the defensive line as well, as they didn't even sniff Rodgers for a sack and only pressured him on seven total dropbacks. To find a big reason for the Vikes woes on defense, you don't have to look very far, as head coach Mike Zimmer brought in his old buddy Dom Capers to be a special advisor and defensive assistant. How do these idiots keep getting jobs? The "old boys" coaching carousel never stops spinning.
The Colts did some real damage in the market last weekend after losing on the road in Jacksonville as a hefty favorite. In addition to torching every ticket on it, Indianapolis was also the consensus pick in survivor pools in Week 1, which means that game had way more eyes on it than it would have otherwise. While we were critical of Philip Rivers last week, we will give him credit for one thing, for better or worse, he's basically Brett Favre at this point. He's going to put up big yards and touchdowns, but he's also going to throw some crippling interceptions. Live by the gunslinger, die by the gunslinger, if you will.
While both of these two teams lost last week, it was the Vikings who's loss was much more forgivable and was predicted by many in this market as the money poured in on the Packers Sunday morning. It was as easy a winner as there was in Week 1. Meanwhile, the Colts lost to a team that had already been written off this season with many stories coming out of Jacksonville about the long play to bring both Trevor Lawrence and Dabo Swinney over from Clemson next season. From where we sit, man for man, this looks like a short price on the home town Colts. They still feature one of the best offensive lines in football, which should be enough for Rivers to spank the Vikes just like Favre used to in his prime Play: Indianapolis -3
MIAMI +6 over Buffalo
1:00 PM EST. The Bills stock is soaring after that 27-17 win over New York, but that inflation is not justified. Despite the success, the Bills were very sloppy, and if they were playing a team that could have capitalized, the narrative out of Orchard Park would be much different. Josh Allen was a football Jekel and Hyde come to life, as he threw for a career-high in yards, but fumbled a pair of times, while also missing open receivers left and right. Dude couldn't hit the broadside of a barn. Allen tossed a career-high 46 passes, which is not a recipe for success. The next time Allen goes for more than 40 attempts, we're willing the bet the Bills are getting their asses kicked. When you frequently make mistakes as Allen does, you let the opposition hang around when they have no business doing so.
Spotting points on the road in a division game is a bet that we have a tough time getting behind. When the favorite is a team that traditionally is not spotting points on the road, it doubles up our reluctance to get behind them. When that price is in this range, that situation forces us to take a closer look at the home pooch.
Week 1 was no doubt a disappointment for Miami, as they had retooled much of their roster with the hope of competing in 2020, but didn't come close to anything like that in a 21-11 loss in New England. However, we must point out that the books had a lot of respect for the Dolphins when they made them a much smaller pup against the Patriots in Week 1 (+6½) of 2020 than they were (+20½) in their Week 17 win in 2019, also against New England, which suggests that the Dolphins are indeed greatly improved.
A key to this week is to not put too much emphasis on Week 1 results. There were more variables in Week 1 this season than in any other season in NFL history and we must try and take advantage. This game fits the bill. For more perspective, Miami cannot be priced in the same range at home this week against Sean McDermott's team as they were against Bill Belichick's team last week on the road. That's absurd. That big improvement that the oddsmakers expected from Miami last week is very likely going to occur against the Bills this week. Big time overlay here. Play: Miami +6
TENNESSEE -8 over Jacksonville
1:00 PM EST. On the surface, this will look like an inflated number after the Jaguars defeated the Colts as an 8-point pooch, while the Titans had their hands full with the Broncos in a game they won but did not cover, but a closer look shows the opposite is true.
Tennessee snuck by the Broncos, but if you were a glutton for punishment and stayed up to watch that game, you saw the Titans totally dictate the play. They won the time of possession by over five minutes, but it felt much more lopsided. Tennessee probably should have covered the 3-point spread as well, but kicker Stephen Gostkowski missed a trifecta of kicks that would have resulted in another nine points, not to mention an extra point, thus he left 10 points on the table.
The Jaguars put to rest the notion they were "Tanking for Trevor '' after a 27-20 win over the Colts, which once again goes to show that pros have way more pride than the front office or the pundits give them credit for. The reports out of Jacksonville are that the Jags are looking to pick up both Trevor Lawrence and Dabo Swinney in the offseason. Apparently, nobody told the rest of the roster about those plans, as the Jags took advantage of a pair of Philip Rivers's interceptions. In this league, when you win the turnover battle, you should win the game. This game has the potential to create a big letdown spot for the Jags after they shocked the football world as much as anyone can in Week 1. That red flag is enough on its own, but this could also be a look-ahead spot, as the Jaguars will host their one and only prime-time game against the Dolphins next Thursday night. That blowout the market expected for the Jags is coming; it's just a week late. Swallow the points. Play: Tennessee -8
HOUSTON +6 over Baltimore
4:25 PM EST. There is much to chew on hare, as both of these squads are coming off very different results in Week 1. First up are the Texans, who were run off the field by the Super Bowl champion Chiefs in the season opener last Thursday night. That game might have been the most anticipated sporting event in North America, post-pandemic, with nearly 15-million people in the United States tuning in. What they saw was a 34-20 rout, where the Texans were outscored 34-13 after posting the game's first seven points. Those that stuck around after the Chiefs went up 31-7 know that Houston racked up a pair of garbage touchdowns, which will not do much for its fanfare in Week 2, especially when you compare their outing to that of Baltimore's.
The Ravens were one of our best bets in Week 1, but now it's time to change gears. It's one thing to be a -7½-point favorite at home against an overwhelmed division opponent like the Browns and quite another to spot that price on the road against a very capable host that features a very capable QB.
It would be easy to point to recent results to justify backing the Ravens here, as they absolutely embarrassed the Texans, 41-7 up in Baltimore last season, but we can't stress enough that that result will only influence the market to look at the Ravens. The Texans cannot be priced at home as if they were the Browns on the road. This is a very generous pile of points and we encourage you to snap them up. Play: Houston +7
TAMPA BAY -8 over Carolina
1:00 PM EST. The new offense in Carolina looks a lot like the old one - plenty of Christian McCaffrey and a touch of passing. That'll change, at least with improved passing, and the addition of Robby Anderson already looks like a winner. Carolina put up 30 points last week against the Raiders and they have a much market appeal this week taking back a pile of points against a team that played in one of the most anticipated games of the weekend. This wager has nothing to do with fading Carolina and everything to do with market perception and the motivation of one GOAT.
Has an all-time great been put out to pasture quicker after joining a new team than Tom Brady? We don't want to say that Patriots fans are ungrateful, but Jesus "f**king" Christ. To the Twitter universe, we say, "Please keep the "Tom Brady sucks" meme's coming, as it pounds the message into the market until the market believes it. Hell, even the local papers in Boston have relished in Brady's misery all week and we're going to use all that negative press to cash a winner here. The Boston Herald dedicated an entire page to Brady.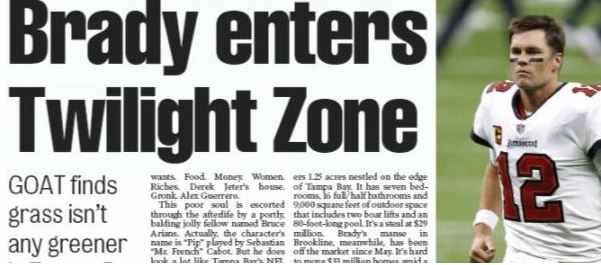 We guarantee that somebody in Boston or several people sent this to Brady and he might have pasted it on his bedroom wall and handed out a copy to every one of his teammates too. Stay classy, Chowds.
Tom's struggles in his new digs have been well documented, as that game with the Saints was featured prominently on Fox stations across the football world as "America's Game of the Week." In addition to being one of the highest viewed games of the week (15-million), the Bucs were also a popular bet. We don't blame anybody who backed Tampa last week for swearing them off in Week 2, but that would be a shortsighted mistake. Sure, Tom Brady did not look spry and the Buccaneers lost 34-23 to the Saints but put no emphasis on a loss in New Orleans. Let the media continue to rip Brady while we come in and scoop them up when most of the market is selling. Incidentally, Tampa's defense looked VERY GOOD last week but the market and media is focusing on what the Bucs didn't do. Play: Tampa Bay -8
Detroit +6 over Green Bay
1:00 PM EST. Who in the blue hell wants to back the Lions this week after another amazing Matt Patricia clock management clinic? In case you missed it, Detroit was up 23-3 going to the fourth quarter before Matt Patricia went Matt Patricia and failed to guide his team to what should have been an easy victory. The best part is that Patricia doesn't think he did anything wrong after opting to go for a 55-yard field goal up 10 with just over four minutes to play. That 55-yard FG would have put the Lions up two scores but they were already up two scores, MORON! Of course the Lions missed and gave the Bears great field position and so the Chicago comeback was underway, ending in a bitter 27-23 defeat for Detroit. If you bet the Lions, as we did in that game, you might have thrown up a little and if you bet Chicago like AAA Sports, you were blessed. The Lions lost what market appeal they were rapidly gaining before the fourth quarter hit. That market appeal is now gone.
Despite the fourth-quarter collapse, the Lions looked really good last week after putting up 426 yards of offense. If you really want to get technical about it, even WITH all the foolishness from Patricia and company, they still had a chance to take the lead after the Bears went up by four, but rookie runner D'Andre Swift dropped a sure touchdown with nobody anywhere near him. In game variance, my friends.
The Packers and, more specifically, Aaron Rodgers' stock is on the uptick. #12 certainly did have a "f**k you" game in him and it was the shoddy Vikings secondary that felt the brunt of a future Hall of Famer that felt spurned by the Packers when they failed to call in some reinforcements in the draft and instead traded up to pick his potential replacement in the first round of April's draft. We could gush all over Rodgers, but we'll leave that for the pundits because you know they can't get enough of good 'ol Aaron. We faded the Packers last week, but their dominance over the Vikings will not stop us from continuing the attack here. Green Bay is notorious for playing down to their competition. The Packers also have a huge NFC showdown next Sunday night in New Orleans, which could leave the Lions as nothing more than an afterthought. Now combine Green Bay's resonating win with Detroit's resonating loss and the result is taking back inflated points. All you Survivor Pool players, be very weary of getting behind Green Bay here. Play: Detroit +6
CHICAGO -5½ over N.Y. Giants
1:00 PM EST. The Bears had no business winning on the road in Detroit last week, but in today's 24-hour coverage of the NFL, that narrative has been pounded harder than the dough of your favorite deep-dish. We can understand the resistance to spot points with the Bears here again this week, as they are priced in a similar range against a Giants side that had a decent showing on Monday Night Football. In Week 1, the Bears vaunted defense was torched for over 400 yards and they were down 10 with four minutes to go. The Lions missed an ill-advised 55-yard field goal and then threw an interception on their next possession. The Bears were handed a gift and everyone knows it.
The Giants lost and did not cover on Monday Night Football, but they did not get embarrassed and if not for an untimely interception at the end of what was a great drive, the G-Men just might have generated a different result. That the Giants were not embarrassed has likely made them much more digestible here, as they appear to take a step down in competition. However, it's never easy to travel on a short week, which is precisely what's being asked of "Big Blue" here. Recent results are likely to factor in here to the Giants' appeals as well, as they were priced in a similar range in Week 12 last season and covered the number in a 19-14 loss. The Giants have some big-name players, but have yet for the whole to become better than the sum of those parts. That's not a statement we expect to change here. Bears the prudent play Play: Chicago -5½
PITTSBURGH -7½ over Denver
1:00 PM EST. We often say that the number dictates the play and that is the case here. There's much working against the Steelers, as they are working on a short week after a Monday night win over the Giants in a game they were battered and bruised in. Ben Roethlisberger said, "I'm definitely sore." Beyond "Big Ben," the Steelers lost fragile runner James Conner and right tackle Zach Banner, who is set for a knee surgery that will end his season. The Steelers mid-week injury report read like a Dickens novel with wideouts Juju Smith-Schuster and Dionte Johnson missing practice, among others. Spotting points with a team coming off an MNF triumph isn't often in our toolbox, but there are exceptions to every rule.
The Broncos cashed a ticket on Monday night as well, but if you stayed up to watch that 16-14 snoozer, you know that they were fortunate to do so. However, that's not the narrative. We read at one outfit that "the Broncos deserved a better fate in their season opener with the Titans." Really? Ya think so, huh? The Broncos lost the time of possession, gave up more first downs and benefited greatly from one of Stephen Gostkowski's worst-ever days at the office (he missed three field goals and an extra point). We're not complaining, as we cashed a ticket that night and we know better than to look a gift horse in the mouth, but if you think we're coming right back on the Broncos here, you're crazier than Antonio Brown. The Broncos are working on a short week as well, but the difference is that they've got to travel and have a novice starter at the league's most important position. The recipe for a blowout is here and we also have the knowledge that the Steelers are priced at one of our "favorite numbers" (-7½).
N.Y. JETS +7 over San Francisco
1:00 PM EST. At first glance, this is going to look like a short number for the 49ers to cover. We've seen this being called the perfect "bounce back" game for San Francisco after dropping a 24-20 decision at home to the Cardinals, but we're not so sure. Other than the 49ers' inability to hang on to a double-digit lead becoming their "thing," there are a couple of things not to like about this spot. First, you have the west coast team flying out east for an early start. Secondly, the number opened at -6, which often produces a feisty pooch.
The Jets had little curb appeal coming into the season and a 27-17 loss up in Buffalo isn't going to change that perception. Add the loss of runner Le'veon Bell, who was placed on IR and we have to wonder, who is going to bet "Gang Green?" A closer look at Sports Interactions "betting action" shows us that the answer is "nobody" with just 4% of the action apparently going the Jets way. We can't stress enough to take that information with a grain of salt, but even if there's a 20% room for error, you still get a pretty clear picture of how much interest there is in the Jets. Oddsmakers could have early made this a -9 or -10-point spread and not likely swayed a bet. Instead, they dangled San Francisco at -6 like forbidden fruit and the market bit. You've been warned. Play N.Y. Jets +7
Washington +7 over ARIZONA
4:05 PM EST. Both of these teams are coming off impressive Week 1 victories, but it doesn't take a rocket scientist to figure out whose stock is on the rise. The Cardinals went on the road and snagged a 24-20 win over the defending NFC champion 49ers and the back of the newly acquired DeAndre Hopkins, who racked up 14 catches for 151 yards. The Red Birds were one of the few sexy preseason picks that actually came through in Week 1, which could make them an appealing play in Week 2. As impressive as the win is on paper, the Cardinals weren't without their stumbles, as they went down 10-0 early, fumbled twice and Kyler Murray threw an interception. Arizona was fortunate to recover those cough ups, but bounces often even themselves out over time. If the Cardinals had lost the turnover battle 3-0 instead of 1-0, the outcome likely would have been much different. Now the Cards go from plucky pooches to home chalk in a double-digit swing. That's a significant role reversal in just one week.
Washington went down 17-0 to the Eagles in Week 1, but rather than fold, it came all the way back to win the game 27-17. The primary reason for the WFT comeback was the play of its defense, which racked up eight sacks, including a pair by Ryan Kerrigan, who took home NFC Defensive Player of the Week honors. A further breakdown of X's and O's is not necessary here, as the most prominent edge the Football Team has is in the coaching department. Ron Riveria is one of the few bench bosses in this league that is not a total idiot; the same cannot be said of Kliff Kingsbury. "Nerve-racking" is how Kliffy boy described his viewing of the Washington front seven's work against the Eagles and we trust that "Riverboat" Ron will have an equally effective game plan set in place. Could the WFT really go 2-0? Damn right it can after Arizona's stock exploded last week. At the very worst, we're taking back inflated points here. Play: Washington +7
L.A. CHARGERS +8 over Kansas City
4:25 PM EST. The Chiefs are darlings in this market and we don't blame it one bit. All Kansas City does is win and cover. In Week 1, the Chiefs didn't even need Patrick Mahomes to be the x-factor, as they ran the ball all over the Texans in front of the football world. If the 2019 championship team had any weakness, it might have been running the rock but that appears to no longer be a problem with rookie runner Clyde Edwards-Helaire going gangbusters for 138 yards and a major. With that win and cover, the Chiefs have cashed tickets in nine of their last 10 games. A push as 10-point chalk against these Chargers last December was the only blip on that run. The point is, the Chiefs have been paying like a broken slot machine and everybody in the market wants a piece of the pie.
The Chargers looked like the dregs in Cincinnati in Week 1 and needed a fourth-quarter comeback just to get the win and a lucky push for their backers (us included). It's easy to crap on L.A.'s final result in Week 1, but there was one positive. They didn't turn the ball over. We understand there may be no words to convince you that the Chargers are absolutely the play here, but we'll leave you with this. When these two teams played in K.C. in late December, the Chargers were taking back points in this range. Now, they are at "home" in a brand new stadium. Fans or not, a change of venue should do this team some good, as most weeks the last two season's the opposing team's fans outnumbered those in baby blue. If there is a team to benefit from an empty stadium, it's the Super Chargers. We did not dig out the data on how often home teams get 8 points in divisional matchups, but we know it's not common. The fact this spread crosses two key numbers (and may even push as high as -9 if more Kansas City money pours in closer to kickoff) leaves all kinds of room for underdog covers and the dreaded back-door cover as well. Traditional handicapping theory would push sharp bettors directly onto this bet, but the Chiefs are not a traditional team. We're likely not playing this game but hold a gun to our head and we would have to take the points. Play Chargers +8
New England +4 over SEATTLE
8:20 PM EST. Pete Carroll wears white pants and chews gum like he's starring in Charlie and the Chocolate Factory. We thought the only folks that wear white pants are butchers and ice-cream vendors. Bill Belichick wears a hoody and is without question the best coach in the business and it's not even close. What do you think BB thinks about being a four-point underdog to the Seahawks. We also have to wonder what the price would be if Tom Brady was still the QB of the Patriots? A pick-em, perhaps? This line is an insult to Belichick and there will be a price to pay.
The next intangible is the respect that Belichick has earned from every player that has had the pleasure of playing for him. The players are very aware that BB's mom passed away last week and nothing about that needs to be said. Every player will play their hearts out, knowing how much this game means to Belichick, as the players will insist afterward that the game ball be dedicated to his mom. It's just another chapter that will be in the movie or book about Belichick's legend, ala Vince Lombardi.
As for the meat, well, Seattle may have won 38-25 last week up in the A.T.L. but the Seahawks defense was shredded for over 500 yards by Matt Ryan and company. The Dirty Birds also went for it on fourth down on four occasions and missed all four. They had two turnovers on top of that. In this business that is known as turning the ball over six times. We promise you BB and the Patriots are not going to give Seattle extra possessions.
Finally, we would be remiss to not mention that Cam Newton now has a real game under his belt under the guidance of BB and his staff and vice versa. The narrative all over publications is that you stop Cam Newton from running and you will stop the Patriots offense from scoring. Really? Do you not think that BB has something else in store for Pete Carroll and the Seachickens? If you think that Carroll is going to outsmart Belichick, put your money on the Seahawks and get back to us. Seattle was not the better team in Atlanta last week but the score says otherwise. We now get what figures to be a uber-focused and prepared Patriots' squad with some inflated points in our pocket and we are buyers in a big way. Play New England +4
-------------------------------------------------------
A cheaper and better alternative to CABLE
TV Programming
A GREAT OFFER FOR SPORTSWAGERS READERS:
We're offering a better and cheaper alternative to cable TV. You will literally save thousands of dollars. If you're sick of paying a fortune for programming that you don't even want or need, this is for you. All pro sports -- EVERY GAME, tons of college football and basketball games and tons of regular programming (non-sports). Over 2500 channels all in HD for a mere $20 per month. You have to be nuts not to get it.
---
| Range | W | L | P | +/- (Units) |
| --- | --- | --- | --- | --- |
| Yesterday | 0 | 0 | 0.00 | 0.00 |
| Last 30 Days | 5 | 3 | 0.00 | +5.02 |
| Season to Date | 5 | 3 | 0.00 | +5.02 |