Tampa Bay -½ +140 over PITTSBURGH
BEST LINES: Pinnacle -½ +140 BET 365 -½ +120 SportsInteraction -½ +120 5DIMES -½ +120
Posted at 3:30 PM EST.

7:05 PM EST. Regulation only. The Lightning are underpriced here because the Penguins still have as much market credibility as anyone and perhaps it's time to start trying to take advantage of the Pens market standing. The Bolts need little introduction, as they're the gold standard in this league right now and to top it off, Tampa has great goaltending, they're an analytics monster in terms of puck possession and scoring chances and they'll get another key player back tonight in Tyler Johnson, who will skate on the top line alongside Nikita Kucherov and Brayden Point. The Bolts are super-talented bunch that may end up being the first team since the Gretzky era to average nearly five goals a game. That figures to bode well here against the Pens.
The Penguins possession metrics continue to dwindle and fall on the wrong side of the ice. The past month's performance sloping down is quite telling though, what once was flirting with a top-10 team in the league and 50%+ Corsi team is now fallen to 17th overall and 25th over the past six weeks. The Penguins shot rates mimic those of the Corsi differentials. Looking at shots against, the Penguins are allowing more shots than they previously had been. That's never a good thing and in fact, over the past six weeks, only the Chicago Blackhawks have allowed more High Danger Scoring Chances Against than the Pens.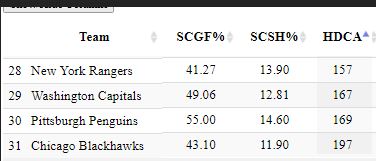 Now, the luck factor. The Penguins are currently riding the highest PDO bender in the league. Much of this can likely be attributed to Matt Murray's stretch of posting an absurd save percentage. Surely this bubble will break at some point and regress back to average if it already hasn't. Murray will be looking to bounce back after he allowed six goals on 32 shots in Monday's 6-3 loss to New Jersey. He has a 14-7-1 record this season with a 3.00 goals-against average and .908 save percentage so his numbers are just average. Whether Pittsburgh's PDO drop comes first in the form of goaltending or shooting, we'll just have to wait and see but the numbers strongly suggest that the Pens are as beatable now as they have been in a very long time. Pittsburgh's defense is a complete and utter mess. The opposition is being given far too many High Danger Chances and this opponent will absolutely bury some of those. Even teams that don't score a lot are scoring five and six on the Pens and until we see something different, the Penguins are a team in big trouble that might be worth fading a lot down the stretch until there is a market correction.
Open an account today at and take advantage of their -104 style pricing on sides and totals, which is 60% better than other sportsbooks.
Our Pick
Tampa Bay -½ +140 (Risking 2 units - To Win: 2.80)