Cleveland -102 over BALTIMORE
Pinnacle -102 BET365 -110 SportsInteraction -110 BetOnline -106 Bookmaker -110

Posted at 12:30 PM EST.
Cleveland -102 over BALTIMORE
7:05 PM EST. Keegan Akin (LHP - BAL) is Exhibit A for the danger and intrigue found in small sample sizes. On the surface, skills growth and an inflated hit rate position him as a sneaky dart throw but his long history of shaky control puts into question the improved BB% that drove that uptick. The sum of those extremes profiles make him like many others: a high-risk, moderate-reward play. Akin has started one game this year and has appeared in five. Over those five appearances covering 15 innings, he walked three and struck out 14 but there is a side note to his appearances. You see, he was used in a mop-up role in all of his relief appearances. Akin came into games with the Cleveland Baseball Team getting blown out (see game log below):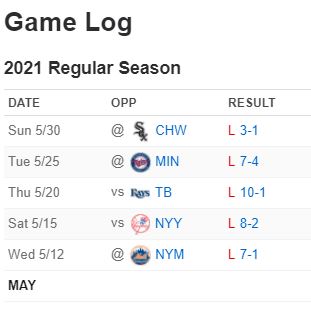 It's much simpler to come in and throw strikes when your team is down by seven runs as opposed to being tied 0-0.
Now let us introduce you to a pitcher that very few folks even know about (fantasy players, take note): Jean Carlos Mejia (RHP - CLE) may not be a familiar name, but he could be soon. The 24-year-old throws a sinker in the mid 90s, a changeup in the high 80s, and a slider in the mid 80s. He can plow the bottom of the zone with all three and has typically worked through the minors with low walk rates. He pitched well enough at the alt site last season to start this one in Triple-A, despite previously having never pitched above High-A. He hasn't thrown more than 33 innings in a season since 2018.
All of that being said, Mejia came on in relief with Cleveland on the wrong end of a blowout last Friday and fired two-and-a-third electric innings. Five of the seven outs he snagged were strikeouts, and he got at least one with each of his three offerings. His swinging strike rate was 15.6% and his groundball rate was 63%. Indeed, like Akin, the sample size is small but this kid looks the part. Almost every out he records is by way of strikeout or groundball and he was doing that at the minor league level too. As a sinkerballer with two usable off-speed pitches plus a fastball that averages 95 MPH with life, Mejía has the stuff to carve out a role in the rotation and besides that, any pitcher Cleveland calls up seems to be of interest because of how good they've been at developing quality arms. The Baseball Team also has the vastly superior bullpen here. Man, the Indians are underpriced here in a big way.
--------------------------------------------------------------------------------------
A cheaper and better alternative to CABLE
TV Programming
A GREAT OFFER FOR SPORTSWAGERS READERS:
We're offering a better and cheaper alternative to cable TV. You will literally save thousands of dollars. If you're sick of paying a fortune for programming that you don't even want or need, this is for you. All pro sports -- EVERY GAME, tons of college football and basketball games and tons of regular programming (non-sports). Over 2500 channels all in HD for a mere $20 per month. You have to be nuts not to get it.
Our Pick
Cleveland -102 (Risking 2.04 units - To Win: 2.00)