Tulane +221 over HOUSTON
Pinnacle +221 BET365 +220 SportsInteraction +220 5DIMES +221 Bookmaker +220
Posted at 12:00 PM EST
Tulane +205 over HOUSTON
Streaming: On ESPN in the Sports Group
TDECU Stadium – Houston, TX
7:30 PM EST. The "revenge angle" is a common strategy used, as bettors scramble to come up with reasons to choose a side. It is also a common cause of many ripped tickets. Nevertheless, the storyline surrounding the inaugural game of the 2020 Houston Cougars campaign is centered around atoning for what transpired in 2019 when these two teams last met.
Houston led by as much as 21 points when it had traveled to Tulane last year, establishing a 28-7 lead early. However, the Green Wave would rally as the Octopus Guys would score 24 unanswered and take a 31-28 lead late in the fourth quarter. Houston would equalize with under a minute to play and anticipated taking the game to overtime. Tulane had other ideas. With just :03 remaining in regulation, wide receiver Jalen McCleskey would haul in a 53-yard touchdown pass to shock Houston and Tulane would cover as a -4-point favorite.
The market is banking on Houston setting the record straight and we'll turn to no other than Ben Burns to get a sense of why folks keep making the same mistake: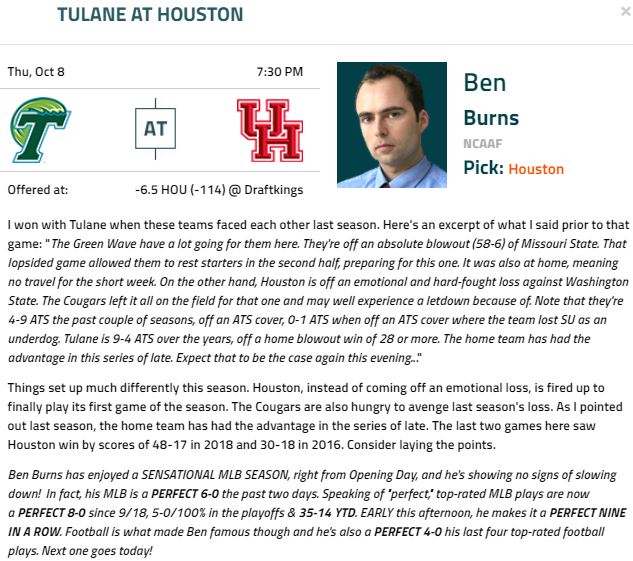 Houston may indeed win and cover but it won't be because they beat Tulane 30-18 in 2016. Burns also writes this:
"Note that they're 4-9 ATS the past couple of seasons, off an ATS cover, 0-1 ATS when off an ATS cover where the team lost SU as an underdog.
Don't know about you but we got dizzy reading this. Dude may as well have written that Houston is 16-7 ATS the day after they eat a grilled cheese sandwich for lunch and 8-3 ATS if a pickle was included on the plate. It's such useless information. Asshole. The synopsis at the bottom tells the tale of a hot handicapper that is KILLING IT but dude is looking for $20 from you. The past records or hot streak of this Simpson's character is all BS.
Now let's get back to the tale of the tape and where the value lies. Tulane has played three games this year and their résumé is not going to gain them any market credibility. As a 11½-point favorite over South Alabama, the Green Wave won 27-24. As a 6-point favorite over Navy, Tulane lost outright. Two weeks ago, as a 3½-point favorite over Southern Miss, Tulane won big but it went largely unnoticed because there were several big games on a day when many Power 5 programs were back in action and the slate of games was much, much bigger. When Tulane lost to Navy in Week 2, there was a small slate of games, thus its game against Navy was at the forefront of a small college football schedule. Same deal when the Green Wave played South Alabama, as the market and media was desperate for any type of college football and so that game was also one that garnered some attention.
It is now October 8th. The Cougars have had five games cancelled. Among those was the time that they were in their final preparations before hitting the road to Waco to play Baylor. Most players were in position meetings, though some had broken early, and were soon headed to a 45-minute walk-through before they boarded buses to depart roughly two hours later. Baylor called at the last minute to inform Houston that it would not be able to play the game. Midweek testing results and the ensuing contact tracing left Baylor short at a key position group under Big 12 cancellation thresholds. The Cougars were crushed. Playing an in-state Power 5 team and an old Southwest Conference foe with a roster filled with guys the Cougars know was strong motivation. They also had their games cancelled against Memphis and North Texas. We're not going to go through the entire timeline of each week but it has been a year of frustration, anticipation, disappointment and no real game experience and one has to wonder about the Cougars mindset. Sure, they're eager to get going but maybe too eager, which can often lead to undisciplined play, trying to do too much, costly penalties and sloppy execution. These are the intangibles that lose football games and we would be hard pressed to trust a team under these circumstances, let alone to win and cover by a margin. Take the points if you like. We're going to play the Green Wave to win outright.
--------------------------------------------------
A cheaper and better alternative to CABLE
TV Programming
A GREAT OFFER FOR SPORTSWAGERS READERS:
We're offering a better and cheaper alternative to cable TV. You will literally save thousands of dollars. If you're sick of paying a fortune for programming that you don't even want or need, this is for you. All pro sports -- EVERY GAME, tons of college football and basketball games and tons of regular programming (non-sports). Over 2500 channels all in HD for a mere $20 per month. You have to be nuts not to get it.
Our Pick
Tulane +221 (Risking 2 units - To Win: 4.42)