N.Y. Rangers @ NEW JERSEY
N.Y. Rangers +131 over NEW JERSEY
BEST LINES: Pinnacle +131 BET 365 +125 SportsInteraction +120 5DIMES +126
Posted at 1:15 PM EST.
7:05 PM EST. OT included. Both teams have a game under their belts after the break with the Devils beating the Penguins 6-3 on Monday while the Rangers lost to Philadelphia, 1-0 on Tuesday. With Pittsburgh racing out to a 4-0 lead over the Lightning last night and eventually beating them 4-2, the Devils win over the Pens looks pretty sweet. Thing is, those are just scores or results and they mean very little. Hockey provides us with some of the best value plays because so many scores are misleading.
Pittsburgh fired 40 shots on Keith Kinkaid and lost. Last night, the Pens were badly outshot, out-chanced, outplayed and won. Against the Devils, the Pens had 26 scoring chances (SCF) to the Devils 13. That score could have come back 7-1 for Pittsburgh just as easily as it came back 6-3 for New Jersey and then this game would be closer to a pick-em. New Jersey barely had the puck against the Pens but won 6-3. That's just one game but it's a rare day when the Devils create more scoring chances than the opposition and in fact, they have been out-outchanced in 12 of their past 15 games.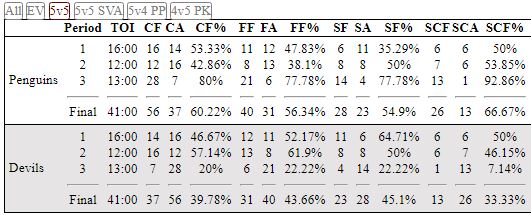 The graph above is during 5-on-5 play and shows just how badly the Devils were outplayed. The graph above is also not uncommon when the Devils play, as they are constantly being outplayed.
The Rangers loss to Philadelphia was just as misleading. The Rags outshot the Flyers, 38-19 and lost 1-0. That score could have just as easily come back 5-0 for the Blue Shirts. The Rangers were relentless in their attack the entire night but just happened to run into a hot goaltender. Prior to the break, the Rags had reeled off three in a row against Boston, Chicago and Carolina and scored 13 times in the process. Prior to that misleading fluke win over Pittsburgh, the Devils had lost six of eight and deserved to lose seven of those. We have no idea who is going to win this game but the Rags are in better form by a wide margin, they're also the better overall team and they offer up some true value here, which is our prompt to move in.
Open an account today at and take advantage of their -104 style pricing on sides and totals, which is 60% better than other sportsbooks.
Our Pick
N.Y. Rangers +131 (Risking 2 units - To Win: 2.62)