VEGAS -½ +114 over Pittsburgh
BEST LINES: Pinnacle -½ +114 BET 365 -½ +105 SportsInteraction -½ +105 5DIMES -½ +105
Posted at 1:45 PM EST.
10:05 PM EST. Regulation only. One of the more difficult things to do for sports bettors is to stick with a team that you just bet or faded after said team causes a ripped ticket. Well, this is a case of sticking with it after we ripped up our ticket against the Penguins last night in Arizona. The Penguins and Coyotes went at it for a hard 60 minutes before the game was settled in OT. There is no question that Pittsburgh deserved the victory but this is a massive step up in class for the Penguins and it's also a difficult spot.
Pittsburgh will play its fifth straight on the West Coast here. They started this trip in Anaheim on January 11 and subsequently played in L.A., San Jose and last night in Arizona. After this game, the Penguins are off until January 28th, thus it would be unreasonable to assume that the Penguins will be getting on that plane back to Pittsburgh after this one. Whether they're hanging around in Vegas or going someplace else, there are distractions galore for the Pens. Aside from that, winning games has only masked their deficiencies at the moment. When the Penguins played the Sharks earlier this week, a team that is very similar to Vegas, Pittsburgh was badly outplayed and lost 5-2.
Just like we mentioned last night, the Penguins possession metrics have dwindled and fallen on the wrong side of the ice. The past month's performance sloping down is quite telling though, what once was flirting with a top-10 team in the league and 50%+ Corsi team is now fallen to 17th. The Penguins shot rates appear to mimic those of the Corsi differentials. Looking at shots against, the Penguins are allowing more shots than they previously had been. That's never a good thing and in fact, over the past six weeks, only the Chicago Blackhawks have allowed more High Danger Scoring Chances Against the Pens. They will pay for allowing so many chances against of the high quality variety.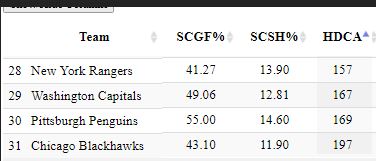 The Golden Knights record is not legit. You see, Vegas should have more points than it has because that's how good it has been playing. Vegas is a top-5 team in every skill category both offensively and defensively. Overall, the Knights rank 3rd in CF% during five-on-five play and fourth in that possession category over the past month. They rank 4th in High Danger Corsi For % and 7th in High Danger Corsi Against. Only once in the past nine games have the Golden Knights been outshot and it is truly a rare day when they get outplayed or outworked. The Knights are absolutely loaded from top to bottom and might be better than advertised.
Finally, we have all watched games that take place in Vegas. It has become one of the more difficult venues in the league to go into and emerge victorious. The joint tonight will be rocking to its core and these extremely passionate fans get a rare chance to see one of the league's most exciting teams. Pittsburgh will win here if their goaltending stands on its hand and Marc Andre Fleury has a bad game and while that possibility always exists, we can almost guarantee that the Knights, with two days off and this being one of their biggest games of the year in terms of fan interest and excitement, will play their hearts out and very likely dominate. Great price, great spot.
Open an account today at and take advantage of their -104 style pricing on sides and totals, which is 60% better than other sportsbooks.
Our Pick
VEGAS -½ +114 (Risking 2 units - To Win: 2.28)