ARIZONA +145 over Pittsburgh
BEST LINES: Pinnacle +145 BET 365 +140 SportsInteraction +145 5DIMES +145

Posted at 1:45 PM EST.
9:05 PM EST. OT included. The Coyotes have won four of their last five games and they were all legit wins too. The 'Yotes only loss during that stretch came against the Flames after Arizona won in Vancouver and Edmonton. Upon returning from that trip, Arizona buried the Sharks 6-2 although San Jose was in a bad spot. Still, Arizona is winning games these days and while we can't recall where we read it, we did read somewhere that Arizona is an amazing 18-3-1 or something very close to that when they score three goals or more. Every team in this league has a chance to do that against the Penguins.
Despite losing to San Jose last game, which is nothing to hang one's head over, it's no secret that the Penguins have ramped up their game by going on a 9-1 run recently and also having won seven of their last 10 games while getting some stellar goaltending from Matt Murray since his return from injury. What is driving the play for the Penguins? Is luck a factor? You bet it is.
The Penguins possession metrics have dwindled and fallen on the wrong side of the ice. The past month's performance sloping down is quite telling though, what once was flirting with a top-10 team in the league and 50%+ Corsi team is now fallen to 17th. The Penguins shot rates appear to mimic those of the Corsi differentials. Kind of the same story there with a big fall since about the middle of December, which coincidence or not is right around the time Matt Murray returned and the shot rate tanked. Looking at shots against, the Penguins are allowing more shots than they previously had been. That's never a good thing and in fact, over the past six weeks, only the Chicago Blackhawks have allowed more High Danger Scoring Chances Against the Pens.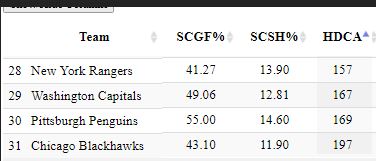 Now, the luck factor. The Penguins are currently riding the highest PDO bender in the league. Much of this can likely be attributed to Matt Murray's absurd save percentage. Surely this bubble will break at some point and regress back to average. Whether that comes first in the form of goaltending or shooting, we'll just have to wait and see but the numbers strongly suggest that the Pens are as beatable now as they have been in a very long time.
Finally, this game is sandwiched between San Jose and Vegas tomorrow. We have to trust that the Pens will be more mentally checked in for the game tomorrow than they will be for this one tonight. Furthermore, after playing in Vegas tomorrow, Pittsburgh will not play again until January 28th or they'll be off for nine days. That's significant because they finish off in Las Vegas. What do you think the odds are of all those players boarding the plane to get back to Pittsburgh? We'd be willing to bet that few will be on that return flight. Instead, there is a million percent better chance that wives, girlfriends, friends or family will be heading to Vegas to meet up and spend some time there with their hockey playing partner, friend or relative. Hockey might not be on the minds of the Penguins here but even if it is, they can still get beat by a suddenly very energetic host.
Open an account today at and take advantage of their -104 style pricing on sides and totals, which is 60% better than other sportsbooks.
Our Pick
ARIZONA +145 (Risking 2 units - To Win: 2.90)