Montreal +138 over COLORADO
BEST LINES: Pinnacle +137 BET 365 +130 SportsInteraction +130 5DIMES +132
Posted at 4:00 PM EST.
8:35 PM EST. On the surface, it certainly looks like the Avs are the better team. In fact, one popular website has the match-up looking like this: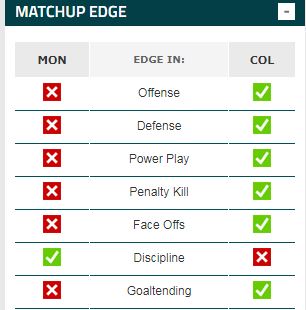 That is all based on luck-driven results. Goals scored and goals allowed are correlated to shooting and save percentages. Penalty killing and power-play percentages are completely luck driven, as we have discussed many times in the past. When looking under the hood and beyond, we're suggesting that the Habs are the superior team and it might not be close.
Over the past month, Montreal ranks 1st in Corsi For % during five-on-five play while the Avs rank 13th over that same span. In Expected Goals For per 60 minutes (xGF/60), Montreal ranks 2nd. One could scroll through all the analytics and find that the Habs are a top-five squad in many key categories on both ends of the ice. Montreal also ranks 1st in xGF +/- while the Avs ranks 16th. Montreal is playing at an extremely high level right now. They deserve better results and will inevitably get them. Shea Weber's return has been a massive boost for the Habs. We may have all forgot just how good he truly is. In any event, it's also worth noting that Montreal is 8-9 against top-10 competition while the Avs are 2-7 and that too, confirms just how strong the value is here on the underdog.
Open an account today at and take advantage of their -104 style pricing on sides and totals, which is 60% better than other sportsbooks.
Our Pick
Montreal +138 (Risking 2 units - To Win: 2.76)