Buffalo +139 over WASHINGTON
BEST LINES: Pinnacle +139 BET 365 +135 SportsInteraction +135 5DIMES +135
Posted at 11:30 AM EST.
7:05 PM EST. OT included. We really hate to zig zag on the Capitals (we played them last night) but this line is so out of whack that the Sabres must be played. Hopefully, the Sabres were watching last night and learned that the Capitals are the very beatable team that we have suggested they are all season. You stay out of the box against Washington and you beat them. The Caps rank dead last in the NHL in High Danger Scoring Chances during 5-on-5 play. In scoring chances against, the Caps rank 22nd. Washington buried another five goals on 29 shots last night in a 6-5 shootout win. In fact, Washington has been held to 29 shots or less in five straight games and in eight of its last 10 and that includes their power-play. During five-on-five play, they have the fewest shots on net in the NHL and it's not even close.
This is not an elite team. This is an extremely lucky team that will be playing the tail end of back-to-backs after another sloppy performance last night that they got rewarded for. That's been the story for Washington all season, as they continually get outchanced, outplayed and outshot in games.
In this one, it'll be Carter Hutton or Linus Ullmark against Phoenix Copley and as long as the Sabres don't get dominated by penalties, they figure to have a very legit shot of winning this one. Incidentally, Washington is not good in that area either ---staying out of the box -- as they have the second worst penalty differential in the game.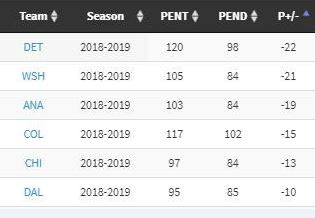 The more we delve into the Capitals, the more we discover just how lucky they are and how below average they are too. Goaltenders decide games but in this case, the value on the Sabres is too great to pass up on.
Open an account today at and take advantage of their -104 style pricing on sides and totals, which is 60% better than other sportsbooks.
Our Pick
Buffalo +139 (Risking 2 units - To Win: 2.78)