Washington -½ +126 over CAROLINA
BEST LINES: Pinnacle -½ +126 BET 365 -½ +110 SportsInteraction -½ +110 5DIMES -½ +110
Posted at 12:45 PM EST.
7:35 PM EST. Regulation only. Yesterday we wrote, "Weak offense with weak goaltending means the Hurricanes decade of frustration will continue and our attack on the 'Canes is going to be relentless until they are priced like the rancid team that they are.
Carolina lost 6-4 to the Canadiens last night and the fact that they scored four times is a minor miracle in itself. This 'Canes' team is desperate to get Michael Ferland back, a third line center on most teams, while a team like Vegas may not have room for a healthy Paul Stastny tonight. Carolina lost last night, as they do most nights because Petr Mrazek was worse than Carey Price. They lost 4-1 to Toronto on Tuesday for the same reason and they also lost to San Jose (5-1) late last week for the same reason when they outshot the Sharks, 40-29. Carolina has lost five of its last six games, frustration is setting in because they can't get a big stop when they need one. The Hurricanes, now frustrated and fatigued, play their third game in four days and tail end of back-to-backs.
Goaltender Alexander Nedeljkovic is currently playing for the Charlotte Checkers of the American Hockey League as a prospect of the Carolina Hurricanes. He was in goal for Charlotte last night and had a shutout going after two periods when the Checkers got the call to pull him because they may need him to start tonight. Curtis McElhinney was injured a few games back, thus, Scott Darling was recalled to back up Petr Mrazek. Mrazek can't stop jack while Darling isn't even worthy of being the third string goalie on the Checkers. The 'Canes are in a bind. If it's the rookie, we'll gladly take our chances against him too.
Washington gets Tom Wilson back tonight and T. J. Oshie returned a couple of games ago. Washington is coming off an easy 6-2 win over Detroit but scored six goals on a lousy 25 shots on net. Detroit scored twice on 37 shots. The game prior, the Caps beat Columbus 4-0 and scored four times on 28 shots while Columbus scored 0 times on the exact same 28 shots on net. We could go over the Caps entire schedule and it's the same story almost every game. The Caps get outplayed but we have come to accept that because they have a winning formula. That winning formula is hot goaltending and great fortune on the power-play.
We've heard the argument that shots on net doesn't matter. Scoring chances matter. Ok, let's go with that and have a look…..Washington ranks dead last in the NHL in High Danger Chances For.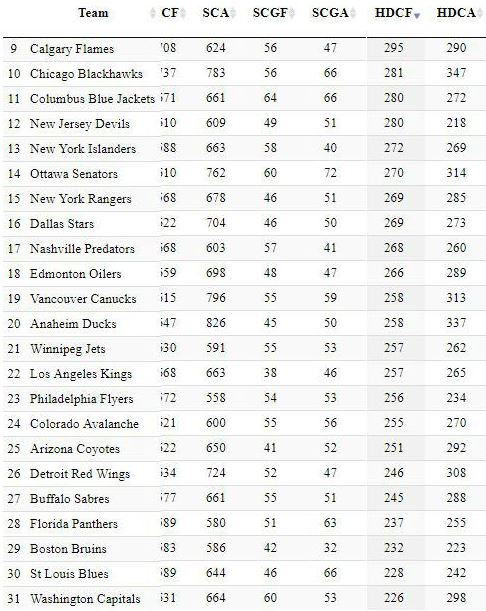 We don't care. For this one game anyway, it's another goaltender mismatch in Washington's favor and we'll repeat, our attack on the 'Canes is going to be relentless until they are priced like the rancid team that they are and that means fixing their goaltending.
Open an account today at and take advantage of their -104 style pricing on sides and totals, which is 60% better than other sportsbooks.
Our Pick
Washington -½ +126 (Risking 2 units - To Win: 2.52)