Chicago +6 +113 over PITTSBURGH
Pinnacle +6 +113 BET365 +6 +105 SportInteraction +7 -115 BetOnline +6 +110 Bookmaker +6 +110
Posted at 4:45 PM EST.
Chicago +6½ over PITTSBURGH
8:20 PM EST. Price is +7 and a little extra vig at most places but we're going to sell a full point, take six points and also take back a bit of a price.
The 3-5 Bears are on a three-game losing streak with a 1-3 record on the road. The 4-3 Steelers have a three-game winning streak, thus their stock is trending the right way while Chicago's is not. This game figures to see more action than a typical Monday night this year because the market got hammered yesterday and will turn to this bailout game to try to pull out of a hole. What's it going to be? A Bears' team that can't move five yards on offense and that's coming off a 33-22 loss to San Fran after losing 38-3 to Tampa or a Steelers' team that just beat Cleveland last week while holding the Brownies to 10 points and extended their winning streak to 3?
We continue to point out the media influence on games as well as recent results that influence the bettor more than anything else. The Bears are a tough team to bet on when one is stuck because it feels like you are always battling just to stay in a game. The Bears own the #32 passing offense in the NFL. Justin Fields has thrown only three touchdowns on the year against seven interceptions and eight lost fumbles. Good QB's throw three TD's a week.
Meanwhile, the Steelers are ol' reliable, a blueblood team that brings pedigree, a winning record and some momentum too. Furthermore, the Steelers have covered two of its last three while the Bears have not covered Since Oct 10th, almost a full month ago. Being in the buy-low/sell high business, the Bears are the prudent choice here but it's more than just that. You see, we wouldn't spot seven points with the Steelers if they were playing UMass.
That Pittsburgh has four wins this year is a minor miracle in itself. Other than the flukiest win of the year in Week 1 when they beat the Bills, Pittsburgh's other three victories occurred against Denver, Seattle minus Russell Wilson and Cleveland minus everyone. The stars have somehow aligned just right for the Steelers to play injured teams at precisely the right time. When the Steelers beat Denver, it was because they held a 3-0 edge in turnovers. Teddy "Wobbly Balls" Bridgewater out-passed Big Ben. The Steelers needed OT to get by Geno Smith and the Seachickens with the total yardage in the game being almost dead even. The Steelers were also fortunate to beat the Brownies, as that game was 10-9 for the Browns going to the fourth quarter. Indeed, Pittsburgh is 4-3 but they are a bounce away in every win from being a 1-6 team or even 0-7. Every Steelers win has been by one score or less while every loss has been by eights points or more.
Before game time tonight, you'll be hearing from Steve Young, Randy Moss, Booger McFarland and whoever else you listen to that the problem in this matchup is that the Bears do not throw well and face the No. 5 defense against quarterbacks. That's X's and O's that these folks love to dissect to come up with a winner. At the end of the day, whether it's Tony Dungy, Terry Bradshaw, Booger McBooger, Randy Moss, Boomer, Phil Sims or anyone else, they cannot wrap their head around underdogs winning outright. They think a 2-point underdog winning is a massive upset.
We have no idea what's going to happen in this game but we absolutely know where the value lies. It lies in betting against the most overpriced team in the National Football League, as the Pittsburgh Steelers cannot and should not be favored in this range over any team in this league. Bears outright is tempting but the points are too juicy to pass up on.
----------------------------------------------------------------------------------------
Shakepay allows Canadians to buy/sell bitcoin using interac. It's so simple and helps to build wealth. If you ever wanted to buy Bitcoin or Ethereum, ShakePay is a great platform for doing so. Also, if you deposit over $100, you get a $30 free bonus.
Bitcoin is important because it enables wealth to be stored with an individual without need for a third party. Its fundamental use-case as a store of value with a predictable monetary policy is having profound implications on freeing individuals into financial sovereignty. Following Bitcoin, the entire suite of financial services is being rebuilt independently from the current financial infrastructure. Shakepay is reputable and they believe enabling access to these services is paramount to the creation of wealth and economic freedom.
Open an account today! https://shakepay.me/r/M4VSIJU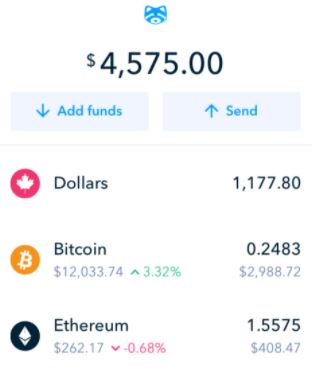 ---------------------------------------------------------------------------------------
Join us on Wednesday, November 10th for our live betting seminar on Twitch, as we take on the NBA and NHL. Join us at http://twitch.tv/sherwoodsports, and we'll take you through the process and strategies of betting live, which provides tremendous value if you play it the right way. Free to join. We not only tell you how to play it, but we also bet with real money via screen sharing. We plan to jump on at about 6:45 EST. See you then.
--------------------------------------------------------------------------------------
A cheaper and better alternative to CABLE
TV Programming
A GREAT OFFER FOR SPORTSWAGERS READERS:
We're offering a better and cheaper alternative to cable TV. You will literally save thousands of dollars. If you're sick of paying a fortune for programming that you don't even want or need, this is for you. All pro sports -- EVERY GAME, tons of college football and basketball games and tons of regular programming (non-sports). Over 2500 channels all in HD for a mere $20 per month. You have to be nuts not to get it.
Our Pick
Chicago +6 +113 (Risking 2 units - To Win: 2.26)