GREEN BAY -3½ +105 over Tennessee
Pinnacle -3½ +105 BET365 -3½ -105 SportsInteraction -3½ -105 5DIMES -3 -115 Bookmaker -3 -115
Posted at 10:30 AM EST.
GREEN BAY -3½ +105 over Tennessee
6:20 PM EST. The Titans can clinch a playoff berth and/or the AFC South championship. A victory at Green Bay would ensure a playoff berth, as would a loss by the Ravens. To win the division, they'll need to beat the Packers and have the Colts lose to the Steelers. Overall, FPI is giving Tennessee a 60.4% chance to win the division by the end of Week 17.
After putting some additional distance between themselves and the Saints in Week 15, the Packers can clinch the NFC's home-field advantage with a win and a Seahawks loss or tie. FPI gives the Packers an 84.2% chance to lock it up at some point in the next two weeks. Motivation for both teams figure to be high.
The NFL season is a grind and when you write up every game, every week, it's easy to get lost in your own thoughts about these teams. We don't generally have a problem finding where the lookahead, sandwich and letdown spots are or who is overvalued and undervalued. Where the real challenge lies is fodder. How many times can you write that Mike McCarthy is a fucking idiot? Like you, we watch these games every week and are quite aware of how much "in game variance" there is in a standard NFL game. Unlike the NBA, where there are a high number of possessions and the better team wins 99/100 times, the NFL is a total crapshoot from week to week, which is why we stress value and not predictions. How can the 49ers look so bad in Dallas one week and then show up and play their asses off in Arizona the next?
When you see the events that happen in this league week to week, it boggles the mind. Just look at the Raiders last night. Any 12-year old with a copy of Madden 21 and an XBOX Live subscription could outcoach Jon Gruden on his best day. When you see these idiots making the same mistakes week after week, it poisons your mind. That is why you will NEVER see us write something like "we feel" or "we think." Do you know why? Because it doesn't fucking matter what we think or feel.
Enter Will Rogers, scumbag pick seller. In his "expert" opinion, he thinks that the Packers will have a hard time containing Derrick Henry. Dude? Ya fuckin' think? What was your first inclination? The fact that Henry has dummied just about every defense he's played this season or that the Packers haven't been able to stop the run since Barry "Fucking" Sanders used to suit up on Sundays. Honestly, we're shocked that Rogers didn't take a shot here on the over too, as the Packers average 31 points per game, while the Titans average 31.1. Dude, that's like, 62 points, man. This total is only 54, that's value! To hammer his point home, Rogers mentions that the Packers are just 1-6 against the spread after a straight up win, while the Titans are 5-2 as a pooch and 7-1 ATS in their last seven road games against a team with a winning record. Useless trends is his game.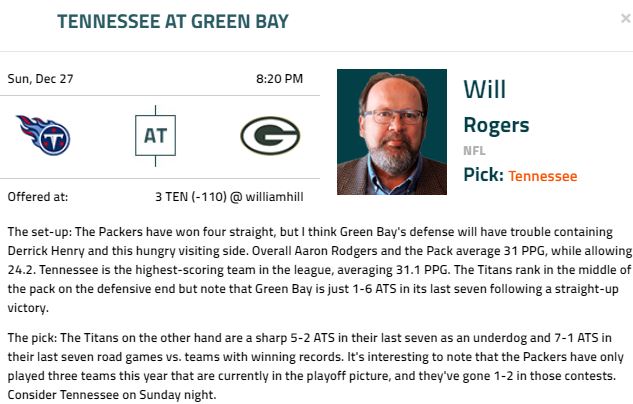 The Titans have been on a tear the last month or so, cashing in four of their last five games. They ran the score up the last two weeks, but those games came against the Lions and Jaguars, which is hard to put much stock in. A 45-26 romp in Indianapolis was by far their best win over that time. Recency bias is real and Henry has been destroying fools left and right, while the Packers have been winning, but not cashing tickets.
Ho hum wins over the Panthers and Lions the last two weeks likely have not earned the Packers much fanfare in the market, because their margin of victory has come in under the number. When you don't cash, your stock goes down. If we were in the business of prediction the outcomes of these games, we too would also likely be very interested in the Titans taking back a price here. However, Henry and that hype train have long left the station. Although favored, it is the Packers who are the value choice here.
-------------------------------------------------
A cheaper and better alternative to CABLE
TV Programming
A GREAT OFFER FOR SPORTSWAGERS READERS:
We're offering a better and cheaper alternative to cable TV. You will literally save thousands of dollars. If you're sick of paying a fortune for programming that you don't even want or need, this is for you. All pro sports -- EVERY GAME, tons of college football and basketball games and tons of regular programming (non-sports). Over 2500 channels all in HD for a mere $20 per month. You have to be nuts not to get it.
Our Pick
GREEN BAY -3½ +105 (Risking 2 units - To Win: 2.10)
Tampa Bay +3 +100 over GREEN BAY
KANSAS CITY -3 -102 over Buffalo