Early leans & analysis
BEST LINES: Pinnacle BET 365 SportsInteraction 5DIMES 888Sport
Posted Sunday, December 27
NFL Week 16
What you see below is our early leans. Many of the selections below will stay the same and some will be moved into official plays with wagers on Sunday. However, there is also the possibility that we see, read or get a sense that something is not right with one of our selections and change our pick. There are several different criteria we use to grade a game and make it an official play and a lot of things can happen or change between Friday and Sunday
We're intent on providing our readers with the best possible selections and doing so on Sunday instead of Friday just makes more sense. We made that change two years ago and ended up going 81-57 (+64 units) in 2018 and 65-59 in 2019 (+16 units). Again, we'll have all write-ups (except Monday Night Football) posted on the weekend but our actual wagers won't be posted until Sunday morning between 10 AM and 12:00 PM EST
---------------------------------------------------------------------------------------------------------
NFL Week 16
Sunday, December 27
PITTSBURGH -2 -105 over Indianapolis
1:00 PM EST. Both of these teams are in the thick of things in the AFC playoff picture with the Steelers already punching their ticket and with the AFC North title in their sights. A Pittsburgh win or a Cleveland loss will hand the division to the Steel City. While the Browns have had their week upended by COVID-19, a Cleveland win (likely) and Pittsburgh loss would result in a winner takes all showdown. Meanwhile, the Colts can clinch their place in the playoffs with a win and a Baltimore or Miami loss, however the Fish got it down in Las Vegas last night so cross that pathway off the list. Of those three teams, Indy, Miami and Baltimore, one will be left on the outside looking in.
There are few teams in this league whose stock is falling faster than these Steelers. When you are a high profile public team, your successes and failures are magnified. Take the discussion of Sirius NFL Radio this week when one of the hosts talked about how incredible it would be that Pittsburgh could start the season 11-0 and end it 0-6 after losing out and getting bounced in the playoffs. We'd like to pump the brakes on that thought, as the Steelers are only at the three-loss mark with two games to play and a guaranteed spot in the playoffs on deck. To see the drastic change in market perception on the Steelers, all you have to do is look at this week's price. The 11-3 Steelers opened as a dog at home to the 10-3 Colts.
Tough month for the Steelers. They stumbled against the Football Team, then couldn't quite get back up versus the Bills and then were flattened by the Bengals who proceeded to sucker punch them each time they tried to pick themselves off the ground. For an 11-0 team that appeared ready to challenge the perfect season, the Steelers are reeling. Only the Jaguars have more consecutive losses. The Steelers still have a Week 17 game in Cleveland. Even if they win this week, they need to beat the Browns to avoid a divisional tie that resorts to tie breakers (assuming the Browns beat the Jets). Even if they lose, they just have to beat the Browns next week. More than anything, they just have to stop losing.
Losing to the Bengals and their 3rd string QB as a 15-point favorite in front of the Football world on Monday Night Football is going to be a stain that will be hard for the market to ignore. That 27-17 defeat marked the fourth straight week they failed to hit paydirt. The vision of Ben Roethlisberger struggling to throw 10 yards downfield and missing everyone in the process is a tough one to erase from one's mind while Philip Rivers has evolved into a lock for close to 300 yards every game. Now ask yourselves, of the 32 teams in this league, whose stock has dropped the most over the past month and then hit rock bottom last week? We all know the answer, thus that's the bet this week. Recommendation: Pittsburgh -2
Cleveland -6½ -110 over N.Y. JETS
1:00 PM EST. How bad are the Jets? Well, this is a team that cannot even tank properly. The question here is whether or not the Jets left it all out on the field in Los Angeles last Sunday afternoon. As you've probably heard, as a 17-point pooch, Gang Green dealt a death blow to the Rams that would have wiped out survivor pools across the country had this game happened earlier in the year.
Yesterday, word came out that the Brownies had a positive COVID-19 case and were forced to delay their trip to New Jersey on Saturday. Naturally, there is going to be an overreaction to that news. While books like Pinnacle pulled this game off the board on Saturday afternoon, others did not. Do you know why? It's because they could not care less if you want to get down on the Jets because of that news. B365 is happier than hell to take that bet. Seriously, do you think you're getting an edge if you're holding Jets +10 right now? This line finally dropped with the announcement that Cleveland would not have most of its wide receivers, including Jarvis Landry and Rashard Higgins. It's hard not to think that there is going to be a major overreaction to those missing Brownies' players.
As for playoff scenarios, the Browns could be in a position to clinch if the Raiders took care of business on Saturday night but they miraculously did not. Now it's going to be a bitter fight until the end with the Earth Tones, Titans, Dolphins, Colts and Ravens battling it out for the final four playoff positions in the AFC. The Browns also have a shot at a potential AFC North showdown at home with the Steelers next week if Pittsburgh loses in Indy and the Browns take home the W in the swamps of Jersey. With motivation not being and issue and a big overreaction (four points) from the market, the Brownies instantly are on our radar. Recommendation Cleveland -6½
N.Y. Giants +10 -101 over BALTIMORE
1:00 PM EST. On the surface, this might not look like a significant pile of points to take back for a Giants' side that couldn't move the ball five yards against the Browns on Sunday Night Football. A team's warts are often magnified in prime time, and for the G-Men, that is no different. This line might look shorter yet when you also consider that the Ravens laid waste to the Jaguars in Week 15.
There is much to chew on from a playoff perspective in this game. Baltimore is 9-5 and currently on the outside looking in on the 10-5 Dolphins, as well as the 10-4 Colts, Browns and Titans. In a year when a six or seven win team could take home the NFC East and host a first round playoff game, it's going to sting that a 10 win team will likely be shunned in the AFC. As it stands, there is no scenario this week that would see the Ravens clinch. They need a win and some help (which they did not get last night) to have a shot to seal the deal against the Bengals next week. If the Titans, Browns and Colts all win, Baltimore will really be behind the 8-ball in Week 17.
The Ravens are a tough team to spot points with at the best of times and based on recent results, these are no doubt inflated points. The Giants are coming off back-to-back blowout losses to the Brownies (20-6) and the Cardinals (26-7), while the Ravens have hit pay dirt in four straight games, including a 40-14 triumph over Jacksonville as 13-point chalk. While the Ravens "have something to play for" they do not control their own destiny and the Giants have the chance to make life very difficult for them, while also doing themselves a favor. Let us also not forget that Big Blue is right in the thick of things in the most pathetic division race in a generation, as they trail the Football Team by just a game. The G-Men should have plenty of motivational fodder and are quite capable of bringing this one in well under the number. Recommendation: N.Y Giants +10
DALLAS +3 -109 over Philadelphia
4:25 PM EST. Has anyone outside of Justin Herbert seen their stock rise quicker than Jalen Hurts? After just two starts, dude has already got Carson Wentz to pack his bags and if you were shrewd enough to pick him up, he might just have you in your fantasy football championship. Last week in Arizona, Hurts went off for four touchdowns and nearly led the Eagles to his second win in as many games as a starter. Hurts finally ripped the reins from Wentz in Philadelphia's Week 13 loss to the Packers and has since thrown for 614 yards while running for another 198 with six total touchdowns. It's been an incredible start, however, Hurts has been relatively lucky when it comes to turnovers. He's only coughed the ball up to the other team twice in 2½ games but a fumble in Arizona went out of bounds and like Wentz, he's running for his life behind a weak offensive line.
The outcomes of those luck based plays often even out over time and one cannot predict how Hurts will react when that time comes. Because the NFC East is joke, the 4-9-1 Eagles are right in the middle of the saddest four horse race we've ever had the misfourtune of watching. However, it appears as if their stock is on the upswing with a new coat of paint.
In what has been another lost (it's their year) the Cowboys still have a shot to make the playoffs with the rest of their NFC East brothers despite being guaranteed a losing record. The Cowboys were done in by the early season injury to quarterback Dak Prescott, who has since been replaced by Andy Dalton, when healthy. Dalton has led this team to two straight wins, but it is hard to be impressed with a drubbing of the Brandon Allen led Bengals and whoever the fuck is playing for the 49ers on any given week. The reality is there is nothing exciting about backing an Andy Dalton led club. Especially when the market has a shiny new toy to play with in Hurts. He's everything Dalton is not. Dynamic, explosive and entertaining. However, we are not in the style business. To ask the rookie pivot to spot points on the road in a division game is a big one. All the value is on the Cowboys here and by going with them, you are going with the best of it. Let the chips fall where they may. Recommendation: DALLAS +3
Denver +3 -111 over L.A. CHARGERS
4:05 PM EST. After reading this writeup from our friend Teddy Covers, it would appear that "revenge" is on the menu here, as the Chargers apparently haven't forgotten about totally botching a big lead in Denver. How do we know this? Well, they were able to win close games against the Raiders and Falcons. Totally the same thing!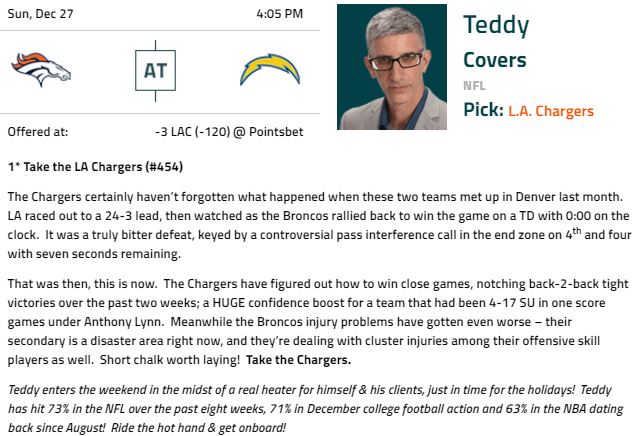 The reality is this write up is exactly everything we preach against. The "revenge" angle is as tired and over played as they come. If we backed the Chargers here, we would be stepping in at the wrong time, as they've won two straight, which suggests their stock is on the uptick. RARELY do we ever fade a team because of injuries. Those missing players are factored into the line. The Chargers were a dog last week in Vegas and now they are the chalk. That swing is better than a converted touchdown and a big overreaction to last week's results.
The Broncos were embarrassed at home (again) in front of a national audience last Saturday against the Bills in a 48-19 final. It was their third loss in four games with their win coming on the road at Carolina in Week 14. As far as curb appeals goes, Denver has very little. Drew Lock has been lapped by the latest class of young quarterbacks, Herbert among them. In addition to this being a solid "buy low, sell high" situation, this game opened at the dog friendly number of +2½. What? Do you think oddsmakers would have swayed a bet if they bumped that up a point or two? Who is not betting the Chargers to cash a ticket with a field goal? Now, this line has moved to -3 and we doubt that will stop the masses from pounding L.A. today. It looks way too easy. Teddy Covers watched Denver getting frog-stomped by Buffalo last week and now he's recoomending a fade on them. That's precisely the wrong time. Recommendation: Denver +3
SEATTLE -1½ 105 over L.A. Rams
4:05 PM EST. Our first thought when looking at this game was that this appeared to be a prime "bounce back" spot for the Rams and it appears that we are not the only ones. It's easy to forgive L.A. for being the first to fall to the now one-win Jets, as the Rams had just played a run of games that included these Seahawks, Buccaneers, Arizona, New England and San Francisco. That's three division games and a pair of prime time contests against the Pats and the Bradys. Then, a "week off" against the Jets before firing back up with this trip to division leading Seattle.
Before this weekend began, the Rams had three different scenarios in which they could punch their ticket to the postseason, however, that is now down to two after the Cardinals lost to the 49ers on Saturday afternoon. As the sun rises today, the Rams can clinch with a win over the Seahawks or a Chicago loss in Jacksonville. As for Seattle, the Seachickens can claim the NFC West title with a victory today.
Motivation can be a big driver of market perception and it appears that the market has taken a stand on this game, as this line opened with Seattle being a -2½ point favorite, but that number has dropped. The perception is that Seattle has its playoff spot in the bag, while the Rams do not so, you know, L.A. "wants it more." The reality is that the Seahawks have the potential to make life difficult for the Rams for another week, unless the Bears fall in Jacksonville. If Chicago does lose, then L.A. will be in, but Seattle will still have the ability to win the division. Who is going to "want it more" then? While a Jaguars win is unlikely, it's possible and that outcome will likely dictate where the action goes in this game. Scoreboard watching becones a thing this time of year and we therefore don't want to be betting a game prematurely when the dynamics can change. We would not be shocked if the Rams were the favorite by kickoff. Recommendation: SEATTLE -1½
-------------------------------------------------------
A cheaper and better alternative to CABLE
TV Programming
A GREAT OFFER FOR SPORTSWAGERS READERS:
We're offering a better and cheaper alternative to cable TV. You will literally save thousands of dollars. If you're sick of paying a fortune for programming that you don't even want or need, this is for you. All pro sports -- EVERY GAME, tons of college football and basketball games and tons of regular programming (non-sports). Over 2500 channels all in HD for a mere $20 per month. You have to be nuts not to get it.
Our Pick
Early leans & analysis (Risking 0 units - To Win: 0.00)
Tampa Bay +3 +100 over GREEN BAY
KANSAS CITY -3 -102 over Buffalo