L.A. Chargers/RAIDERS over 52 +100
Pinnacle o52 +100 BET365 o52 -110 SportsInteraction o52 -110 5DIMES o52 -105 Bookmaker o52 -108

Posted at 1:40 PM EST.
L.A. Chargers/Raiders over 52 +100
8:20 PM EST. Buy low, sell high. Buy low, sell high. Buy low, sell-high. We hadn't even realized what a great opportunity this is until we ran into Will Rogers and we're not referring to the Vaudeville actor. No, we're referring to a tout that is looking for your credit card number to charge $17.00 to for a winning selection. Will Rogers (the names W.C. Football Fields and Jimmy The Cheeseman Durante were already taken) came up with this game to go under the number and explained why in his incredible research: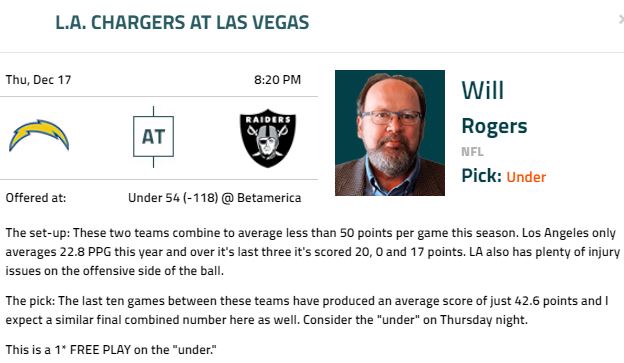 Rogers points out that these two teams combine to average less than 50 points per game this season and that the Chargers only average 22.8 PPG this year. That is some great detective work right there. Rogers obviously has "inside information" that the books are not aware of. He then points out that the Chargers have scored 20, 0 and 17 points over their last 3 games.
Now, we have no idea if the Chargers are going to score 10 or 50 points but what we know for sure is that their offensive stock is way down. We also are aware that the number seems high when you consider what Rogers is pointing out but just to let you know, the oddsmakers have all this info also for this isolated Thursday Night game.
Will Rogers goes on to point out that the last 10 games between these teams have produced an average score of just 42.6 points and that he expects a similar final combined number here as well. In other words, Rogers is selling the under at the worst possible time. He's selling it three weeks too late on a Chargers game to go under. That ship has sailed, not once, not twice but three times over the last three weeks and that does not even include the Raiders offensive stock being down either. This former aluminum siding salesman figures he has an edge on the oddsmakers but everything he pointed out is exactly why one should bet it over.
Finally, the unders have been hitting at a large pace the past few weeks. In fact, Overs hit at a 62.1% clip the first four weeks of the season but the Unders have cashed 62.7% the last 5 weeks. There was a massive correction to the Unders and now that the market is focusing on another one here, it is time to pull the trigger on a decent number. The Total opened at 55. It's been bet down because of all the low scoring games by today's standards that these two have been involved in lately. It is now time to buy low and bet these two to go over.
-------------------------------------------------
A cheaper and better alternative to CABLE
TV Programming
A GREAT OFFER FOR SPORTSWAGERS READERS:
We're offering a better and cheaper alternative to cable TV. You will literally save thousands of dollars. If you're sick of paying a fortune for programming that you don't even want or need, this is for you. All pro sports -- EVERY GAME, tons of college football and basketball games and tons of regular programming (non-sports). Over 2500 channels all in HD for a mere $20 per month. You have to be nuts not to get it.
Our Pick
L.A. Chargers/RAIDERS over 52 +100 (Risking 2 units - To Win: 2.00)
Tampa Bay +3 +100 over GREEN BAY
KANSAS CITY -3 -102 over Buffalo