Atlanta +108 over CAROLINA
Pinnacle +108 BET365 +105 SportsInteraction +103 5DIMES +106 Bookmaker +105
Posted at 4:00 PM EST.
Atlanta +112 over CAROLINA
8:20 PM EST. The 1-6 Falcons face the 3-4 Panthers for the second time in four weeks. The Panthers recently won 23-16 at Atlanta in Week 5 and now they'll play that same team in Week 8. Not only do the Panthers have a better record than the Dirty Birds, but they lost their last two games to the 5-2 Bears (23-16) and to the 4-2 Saints (27-24). Their other two losses were to Vegas in their season opener, 34-30 and a loss to the Buccaneers, which is considered to be another top team. Carolina's market credibility just keeps getting better. This is a team that has covered in four of its last five games, including the last time we saw them on Sunday when they went into New Orleans and nearly beat the Saints. The Panthers also have wins over the Chargers and Cardinals.
Now we turn to the Falcons, a team with one in seven tries. A team that ranks 32nd out of 32 teams in overall defense and 27th in DVOA. Atlanta's only victory came against the Vikes the week after they fired their coach. Last week there was a brilliant headline by Jay Busbee of Yahoo Sports: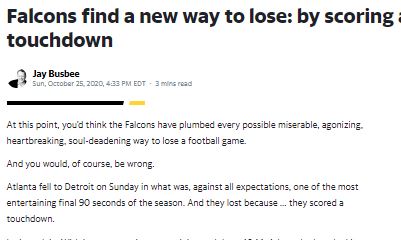 The point is that Atlanta's market credibility is shot and now it is playing on the road on a short week. Why oh why did the oddsmakers open the Panthers at -2½ and not -3? Why? At -3 they would not have swayed a single bet but a close look reveals why. You see, the market reacts to results and records and not the product on the field. If we were to delve deeper into Atlanta's results it reveals that the Falcons' loss to Detroit last week was their third lloss off the season in which they had a win probability of at least 98 percent, the most by a team in the last 20 seasons. Combine stupidity and very bad luck and you have a 1-5 team instead of a 4-2 team. In fact, one could argue that the Falcons could easily be 5-1.
The Panthers go from the role of the underdog to the role of the favorite, which is a role they are not well suited for. The Falcons should have beaten the Bears but make note that they scored 26 on Chicago. They lost to Green Bay and they lost to Seattle, which are not bad losses. Two games into the post Dan Quinn era and the Falcons really don't look any better. They miss assignments, commit turnovers, have lapses in effort, aren't the more physical team on every play, and play poor situational football at times. This team doesn't practice like a winning squad, doesn't watch film like a winning squad and doesn't like to be coached like a winning squad. In conclusion, the Falcons are not a good football team, yet they're pretty much on par with many teams way above them in the standings. Our position is that the oddsmakers are fully aware that there is so much correctable failure on the Falcons that they hung a number to get us to bite on the "false favorite". We're not going to fall into that trap, instead, give us the Dirty Birds straight up.
--------------------------------------------------
A cheaper and better alternative to CABLE
TV Programming
A GREAT OFFER FOR SPORTSWAGERS READERS:
We're offering a better and cheaper alternative to cable TV. You will literally save thousands of dollars. If you're sick of paying a fortune for programming that you don't even want or need, this is for you. All pro sports -- EVERY GAME, tons of college football and basketball games and tons of regular programming (non-sports). Over 2500 channels all in HD for a mere $20 per month. You have to be nuts not to get it.
Our Pick
Atlanta +108 (Risking 2 units - To Win: 2.16)