BUFFALO +5½ -108 over Kansas City
Pinnacle +5½ -108 BET365 +5½ -110 SportsInteraction +5½ +100 5DIMES 5½ -105 Bookmaker +5½ -108
Posted at 3:30 PM EST.
BUFFALO +5½ -108 over Kansas City
5:00 PM EST. When the Chiefs lose, nobody panics or thinks twice about. When the Chiefs lose or have a poor performance like they did against the Chargers, they are excused because they are the standard of excellence. When the Bills lose or any other team loses or has a bad game, the market will not forgive them so quickly. Buffalo lost got whacked by Tennessee just a few days ago and it is fresh in the minds of the betting public. When a team like Buffalo, whose pedigree over the last two decades is so bad, loses by almost four TD's in a prime time game, it is going to cause a market reaction. Buffalo's 42-16 loss to the Titans is a misleading score that is mostly a result of turnovers that put the Bills in a hole too deep to get out of. Buffalo held Ryan Tannehill to a mere 195 yards passing. We're not going to get into the stats because what we saw on Tuesday was not the overall Buffalo Bills but the Week 5 Buffalo Bills.
On Tuesday of last week, we read the Buffalo News because their Bills coverage is extensive. Every single beat writer that covers the Bills agreed that Buffalo would beat Tennessee. They were all wrong. This week, they have changed gears.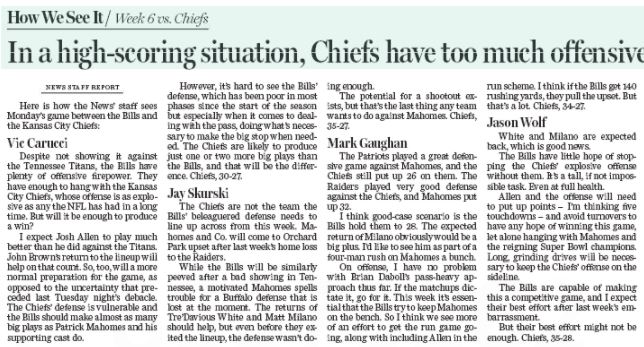 You see, what we read in the media does not influence our choice but it is a reflection of the market and what the media is feeding said market. The point is that there is a massive overreaction to Buffalo's loss to Tennessee while a word is not said about Kansas City's absolutely horrible defense. We have no idea if Buffalo can punch back every time the Chiefs score or if Buffalo can go to the front and hold the lead. We'll let all the experts tell you about the X's and O's and how the game is supposed to play out. You can even try and figure that out yourself but it's an exercise in futility. What we know for sure is not whether Buffalo will cover but that we are taking back inflated points with a Bills' squad that is capable of putting up 40 or more on this awful defense of this visitor. That's a chance we'll take every time.
---------------------------------------------------------------------
A cheaper and better alternative to CABLE
TV Programming
A GREAT OFFER FOR SPORTSWAGERS READERS:
We're offering a better and cheaper alternative to cable TV. You will literally save thousands of dollars. If you're sick of paying a fortune for programming that you don't even want or need, this is for you. All pro sports -- EVERY GAME, tons of college football and basketball games and tons of regular programming (non-sports). Over 2500 channels all in HD for a mere $20 per month. You have to be nuts not to get it.
Our Pick
BUFFALO +5½ -108 (Risking 2.16 units - To Win: 2.00)