ATLANTA -2½ -106 over Carolina
Pinnacle -2½ -106 BET365 -2½ -110 SportsInteraction -2½ -110 5DIMES -2½ -110 Bookmaker -2½ -108
Posted at 10:45 AM EST
ATLANTA -2½ -110 over Carolina
1:00 PM EST. If we were to focus on just recent results, the case to be made for the Panthers is an easy one. They went on the road and beat the Chargers in Week 3 as a 6½-point underdog and then followed that up with a double-digit win over the upstart Cardinals in Week 4, again as a pooch. Meanwhile, the Falcons are 0-4 in the standings and 1-3 against the spread, with their only cash-in coming against Dallas in a game they lost 40-39, but led 20-0 at one point. That was the second big lead the Falcons have blown this season, with the other coming against the Bears in Week 3. In their other two games, Atlanta got whacked by Seattle in Week 1 and by Green Bay in front of the world on Monday Night Football.
That whooping the Dirty Birds took on MNF is a fresh market wound that is not going away anytime soon. In fact, the market hammered the price down on Monday after the news that Devante Adamas would not play for Green Bay. Did it matter? Nope. Aaron Rodgers made Matt Ryan and the Falcons his bitch again. If this game were played two weeks ago, what would this line have been? Falcons by a touchdown? If the Chargers were spotting a major in Week 3 to the Black Cats, then we would have to trust that Atlanta would be spotting a similar price.
The market is sick of throwing away money on the Falcons and are jumping off in droves. We only have to turn to ESPN's "experts" to get a reflection of said market. They were asked,
"What's your top upset pick for Week 5? Here are three of the five answers: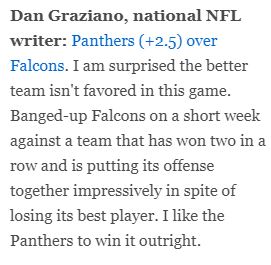 Seth Walder even points out how "he's fallen for the Falcons too many times". How many times have you wagered on a team that lost and then you laid off that same team the week after and they covered easily? It's a common and understandable mistake that is very easy to commit. Seth Walder is a true reflection of the market. We often discuss the best time to jump on is when the world is jumpinmg off.
We now turn to where the value lies. Atlanta is barely better than a coinflip against a team that was expected to be in the basement of the NFC and that was a projection with a healthy Christian McCaffery in the lineup. The Panthers have certainly seen their stock rise, but we can't help but trust that the enthusiasm the market has for Carolina in this game has much more to do with the plight of Atlanta. The Falcons are being offered up at a significant discount on their home field. That's our cue to step in.
--------------------------------------------------
A cheaper and better alternative to CABLE
TV Programming
A GREAT OFFER FOR SPORTSWAGERS READERS:
We're offering a better and cheaper alternative to cable TV. You will literally save thousands of dollars. If you're sick of paying a fortune for programming that you don't even want or need, this is for you. All pro sports -- EVERY GAME, tons of college football and basketball games and tons of regular programming (non-sports). Over 2500 channels all in HD for a mere $20 per month. You have to be nuts not to get it.
Our Pick
ATLANTA -2½ -106 (Risking 2.12 units - To Win: 2.00)