Ball State +13 -110 over Buffalo
Pinnacle +12½ -102 BET365 +13 -110 SportsInteraction +13 -110 5DIMES +13 -110 Bookmaker +13 -110
Posted at 3:10 PM EST.
MAC Championship Game - Ford Field – Detroit, MI
Ball State +13 over Buffalo
Streaming: ESPN

7:30 PM, The Cardinals come into the Mid-American Conference Championship Game off the heels of what was nothing short of a bizarre win against Western Michigan, which decided the winner of the West Division last Saturday. Ball State overcame a 14-point deficit in the fourth quarter and scored 17 unanswered to emerge victorious, 30-27. However, the pyrotechnics associated with the outcome is what has surrounded this program as it heads to the Motor City.
Ball State took a three-point lead with less than a minute remaining against the Broncos but that did not stop Western Michigan from nearly orchestrating one of the most improbable victories in college football history. As is customary at the conclusion of any football game where the trailing team has the ball and a chance to score, they will attempt the Hail Mary. Without going into all the details, Western Michigan was still lateralling the ball and in the chaos and confusion, found the end zone. Ball State's run to Detroit seemed all but over but the stripes had other ideas, as it was revealed that Western Michigan orchestrated a forward pass which nullified the flags on Ball State for storming the field and also the subsequent score.
In the aftermath, the Cardinals are on their way to play for the MAC championship but it doesn't really matter who the Bulls were going to face. This wager is about taking back a heavy dose of inflated points against the Buffalo Bulls. UB's performance portfolio season-to-date has been one that has left the market drooling, even to a point where one of the "experts" couldn't help but chime in on the Bulls: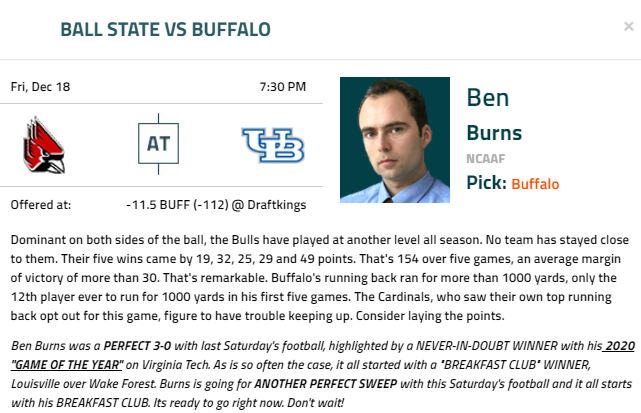 Ben Burns' rationale is short but sweet. Dude says that because the Bulls have won by an average margin of 30 points and by no less than 19 this entire season, that the books are giving it away again. He is insisting you buy when Buffalo's stock is through the roof. He then goes on to make this astute observation as to why Ball State will not be able to keep up. Says Burns, "The Cardinals, who saw their own top running back opt out for this game, figure to have trouble keeping up. Keep in mind that Burns went 3-0 last week. Keep in mind that his "Breakfast Club" picks are ready to go. Keep in mind that this low-life, scumbag's "Game of The Year and Never-In-Doubt choices won again after his Breakfast Club game won too.
Trust us when we tell you that this cockroach knows less than your uncle Wolfgang when it comes to wagering on sports. There are no Game of the Year winners, Breakfast Club winners or Never-in-Doubt Winners. There is only a marketer that knows less than your uncle Wolfgang about what it takes to become a successful bettor. If the game loses, this cockroach will insist that it was just a free pick and not his "Breakfast Club" pick. You gotta pay for that.
Buffalo may indeed win and crush the number again tonight. That is very possible. However, it's also possible that they don't cover because the points that they are spotting are grossly inflated. Again, this favorite has been crushing the number and it forced the oddsmakers to overcompensate. That is our cue to move in.
We are not going to go into the tale-of-the tape here in regards to Buffalo's weak schedule and the way they crushed the number. That does not matter one bit. We look for opportunities. We look for inflated points, which in turn means value. It doesn't mean we are going to win but it absolutely means we are going with the best of it and so we'll continue to spread the good word and collect profits over time. Ball State is the prudent choice here.
-------------------------------------------------
A cheaper and better alternative to CABLE
TV Programming
A GREAT OFFER FOR SPORTSWAGERS READERS:
We're offering a better and cheaper alternative to cable TV. You will literally save thousands of dollars. If you're sick of paying a fortune for programming that you don't even want or need, this is for you. All pro sports -- EVERY GAME, tons of college football and basketball games and tons of regular programming (non-sports). Over 2500 channels all in HD for a mere $20 per month. You have to be nuts not to get it.
Our Pick
Ball State +13 -110 (Risking 2.20 units - To Win: 2.00)