Arkansas St @ COASTAL CAROLINA
COASTAL CAROLINA +3½ -105 over Arkansas St
Pinnacle +3½ -105 BET365 +3½ -110 SportsInteraction +3½ -110 5DIMES +3½ -110 Coolbet +3½ -108
Posted at 10:30 AM EST
COASTAL CAROLINA +3½ over Arkansas St
Brooks Stadium, Conway, South Carolina
Streaming: ESPN2 in the Sports Group
12:00 PM EST. We hate to go against an expert like Larry Ness because the dude has been in this business for 100 years but allow us to break it down for you. One would think that Ness has learned a thing or two along the way but that's simply not the case and is the reason he's looking for your credit card number to grab a $20 bill.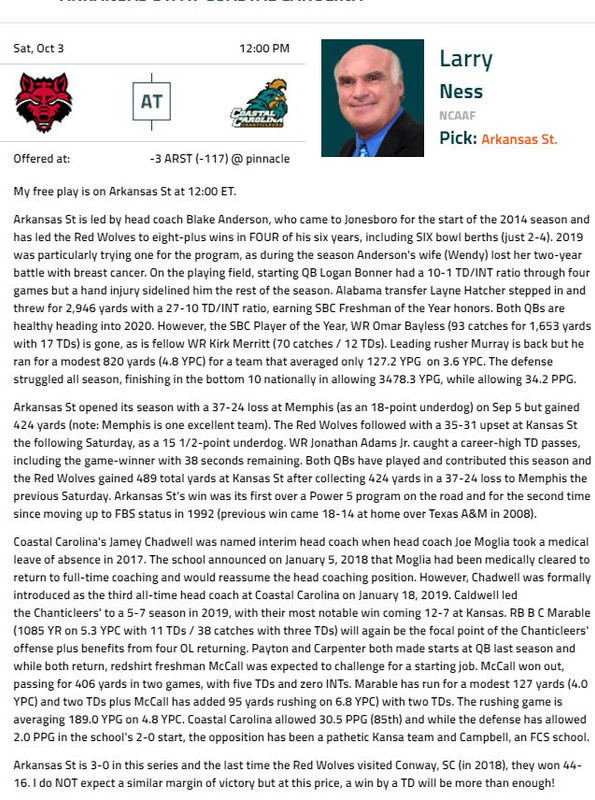 Ness writes, "Arkansas St opened its season with a 37-24 loss at Memphis (as an 18-point underdog) on Sep 5 but gained 424 yards (note: Memphis is one excellent team). The Red Wolves followed with a 35-31 upset at Kansas St the following Saturday, as a 15 1/2-point underdog.
(Incidentally, Larry Ness was touting Memphis to cover against Arkansas State and now he's zig-zagging).
That's really nice so now after two straight covers, dude is suggesting to buy when that ship has sailed. Larry Ness is buying high. He goes on to say that, "Arkansas St's win was its first over a Power 5 program on the road and for the second time since moving up to FBS status in 1992 (previous win came 18-14 at home over Texas A&M in 2008). Again, he's buying high and cannot help himself from mentioning all the accolades that are being thrown State's way.
In regards to Coastal Carolina, Ness remarks that CC's 2-0 start is directly attributed to the opposition being a "pathetic Kansas team" and "Campbell, an FCS school". While that is true, Ness figures that selling low is a good idea.
Finally, Larry Ness turns to this to finalize his sale, "Arkansas St is 3-0 in this series and the last time the Red Wolves visited Conway, SC (in 2018), they won 44-16. I do NOT expect a similar margin of victory but at this price, a win by a TD will be more than enough.
Dude figures that because they won by 28 in 2018, they are sure as hell going to win by four or more here to gain an easy cover. If handicapping was taught in schools, this piece would go a long way in educating folks how not to choose games.
Arkansas State may indeed win and cover here but if they do, it won't be because of any of the reasons that Larry Ness suggests. And just in case you are interested, the Red Wolves haven't actually played a game since the KSU upset. They've been dealing with COVID-19-related issues with players and coaches while CCU has graded impressively in its two wins to date with freshman quarterback Grayson McCall throwing seven TD's touchdowns with 0 turnovers, 0 sacks and a 213.5 QBR looking like the real deal.
--------------------------------------------------
A cheaper and better alternative to CABLE
TV Programming
A GREAT OFFER FOR SPORTSWAGERS READERS:
We're offering a better and cheaper alternative to cable TV. You will literally save thousands of dollars. If you're sick of paying a fortune for programming that you don't even want or need, this is for you. All pro sports -- EVERY GAME, tons of college football and basketball games and tons of regular programming (non-sports). Over 2500 channels all in HD for a mere $20 per month. You have to be nuts not to get it.
Our Pick
COASTAL CAROLINA +3½ -105 (Risking 2.1 units - To Win: 2.00)