Wofford +107 over MERCER
Pinnacle +107 BET365 +105 SportsInteraction +105 5DIMES +106 Bookmaker +107

Posted at 10:30 AM EST.
Wofford +107 over MERCER
Streaming: ESPU
7:00 PM EST. This is a beauty. What we have here is a 7-1 team playing a 3-3 team but if one were to look at the standings of the Southern Conference, it looks even worse.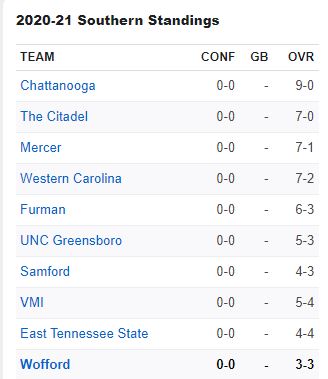 The market now gets to spot less than one possession with what looks like a top team versus a bottom team but nothing could be further from the truth. We are once again the beneficiaries of misleading records in a league where there are 354 teams, thus resulting in a lot of skewed stats and unreliable records.
Mercer's 7-1 record includes three wins over three Division II schools, North Georgia, Columbia International and South Wesleyan. Against South Wesleyan, Mercer won by 11 and allowed the opposition to score 85 points. Its other wins were against Georgia Tech, Georgia State Georgia Southern and Kennesaw. The Bears also lost to Georgia State in the rematch. Mercer's Strength of Schedule ranks 183rd in the country. A pretty record it is but a pretty résumé it is not.
Prognosticating college basketball teams doesn't always follow a simple formula. In other words, clinging to the Key Returners – Key Losses + Key Newcomers equation ignores critical nuances in appraising how much a team might improve or regress, relative to the year prior. Put last year's skewed conference records aside for a second – for reference, Mercer finished 4th in the standings, but Wofford, Western Carolina and Chattanooga were all better, per the notable numerical metrics (the NET, KenPom, etc.). In other words, Mercer was effectively the seventh best team in the league last year and their skewed numbers continue this year because they scheduled games against marshmallows. There is a price to pay for constantly playing dregs and this line says that Mercer is about to pay up not pay off.
Mercer has played the 60th ranked Strength of Schedule in America. They lost to an outstanding Richmond team by five points. They lost to South Florida by two and they also lost to Texas A&M. That's the Terriers three losses this year and now they'll begin conference play battle-tested and ready to go. This is a Terriers' squad that has five players capable of going off for double digits. If you watch this game, keep your eye on Messiah Jones. He's a great player right now and he will be even greater. That kid gives his all to this team every single game and it rubs off. The Terriers may look a little different this season, but the intelligence and cohesion is a given for this program. Storm Murphy's mistake-free play at the point, combined with Jones' activity inside, gives Wofford two solid building blocks to start from. Wofford's institutional track record of player development points to an inevitable splash but we're more interested in right now. The Terriers stock is low and that's a good thing because it provides us with this great opportunity to get behind the better team taking back a tag.
-------------------------------------------------
A cheaper and better alternative to CABLE
TV Programming
A GREAT OFFER FOR SPORTSWAGERS READERS:
We're offering a better and cheaper alternative to cable TV. You will literally save thousands of dollars. If you're sick of paying a fortune for programming that you don't even want or need, this is for you. All pro sports -- EVERY GAME, tons of college football and basketball games and tons of regular programming (non-sports). Over 2500 channels all in HD for a mere $20 per month. You have to be nuts not to get it.
Our Pick
Wofford +107 (Risking 2 units - To Win: 2.14)