ALABAMA ST -6½ -110 over Southern
BEST LINES: Pinnacle -6½ -112 BET 365 -6½ -110 SportsInteraction -6½ -110 5DIMES -6½ -110
Posted at 11:45 AM EST.
8:30 PM EST. When you go to Southern's roster page, this is the first thing that pops up.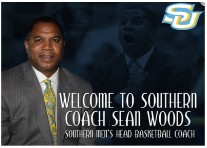 Thus, it was safe to say that the Jags were giddy to kick-off a new chapter in their program's illustrious SWAC history after a weird season in flux under interim head coach Morris Scott. Woods' first order of business is simple: avoid any more fights with teammates. Given the volatility of Woods' hyper-competitive streak, this hire does not come without risk – and right now, this is nothing but a program in disarray that Woods is doing his best to clean up. Given the stark contrast between the style of play Woods is trying to implement and the style we observed last year under interim head coach Morris Scott, Southern is still far off from what it takes to compete. Woods' vision translating to wins just isn't happening right now. Southern is 0-12 on the road and they're 3-17 overall but because its out of conference, strength of schedule ranked 9th in the country, the Jags are getting a bit too much credit here.
What difference does it make who you play if you're not competing? The Jags played Louisville and lost by 30 points. They lost to a brutal Western Michigan team by 15. They have losses to Iowa St by 36, to Marquette by 43, to Baylor by 27 and to Alabama by 20. The schedule was difficult but does it really matter when the opposition is treating it as a glorified practice? Southern has competed in its last three games by beating Arkansas Pine Bluff and Mississippi Valley State before losing to Alabama A&M by just six. Thing is, all three of those teams that Southern just played and competed in are pure garbage with Mississippi Valley State perhaps being the biggest dregs in the entire country. KenPom has Mississippi Valley State ranked as the 350th best team out of 353 schools and it has Southern ranked as the 335th best.
Alabama State's 7-10 record is unimpressive and it has this squad undervalued but here's what we like. Head Coach Lewis Jackson has been with the Hornets for 13 years. When you've coached in the SWAC for as long as has, the ebbs and flows of up and down years are inevitable. The excessive roster turnover makes it nearly impossible to consistently build cohesive teams with upperclassmen who are 'all-in' committed to the coach's vision. Jackson has been through this cycle multiple times over his 13-year stay so he knows not to panic at the earliest signs of adversity – precisely the situation the Hornets found themselves in to start the year after turning in back to back sub-500 showings in conference play. However, the Hornets have all all five starters from last year and it's starting to pay off in spades, as they have jumped out to a 5-1 conference mark after playing the #1 ranked out of conference, strength of schedule in the country. This level of year-over-year continuity is a rarity in the SWAC, where players come and go frequently because they get encouraged to transfer if they're any good. While other coaches are integrating a slew of newcomers from many different origins, Jackson knows what he's working with after coaching this group last season. This is a rapidly improving squad with good personnel that has a great chance to go 6-1 in the conference and we don't envision this invader getting in their way.
Open an account today at and take advantage of their -104 style pricing on sides and totals, which is 60% better than other sportsbooks.
Our Pick
ALABAMA ST -6½ -110 (Risking 2.2 units - To Win: 2.00)