ST. LOUIS -1½ +170 over Chicago
Pinnacle -1½ +165 BET365 -1½ +170 SportsInteraction -1½ +160 BetOnline -1½ +164 Bookmaker

Posted at 2:00 PM EST,
ST. LOUIS -1½ +170 over Chicago
8:15 PM EST. Adam Wainwright (RHP - STL) draws a Cubs' foe which struggles against right-handers. Wainwright owns a 3.04 ERA/3.89 xERA over his last five starts, and that includes a game at Coors, two starts against the Giants, and one against the Braves. It's also worth noting that Wainwright owns a 2.79 Busch Stadium ERA since 2019.
Then there's Kyle Hendricks (RHP - CHC). Each season, he renders xERA column more irrelevant. It starts with elite control and command, but hitters also can't get good wood on his pitches, especially his change-up and curveball. At this point, one could even suggest it would be a surprise if the beat doesn't just keep going on. Perhaps it will but we're not supporters of the "can't get good wood on his pitches" theory. Fact is, Hendricks is hittable. Dude has an incredibly lucky 82% strand rate. If hitters were not getting good wood on his pitches, his hard hit rate would be low but it's not (see chart below)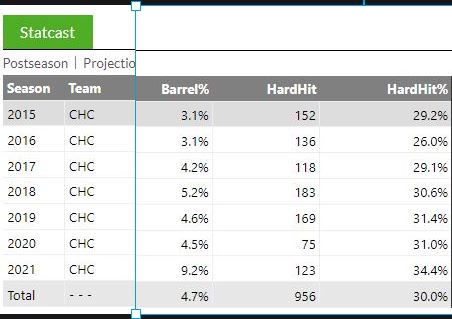 Kyle Hendricks isn't fooling anyone except the market. His HardHit % (34%) is the highest it's ever been and is worse than league average. The same can be said for his Barrel % (9.4%), which is nearly twice as high as his career mark. Hendricks' is 12-4 with a 3.65 ERA, which gives him and the garbage team he plays for much market appeal. Truth is, Hendricks swing & miss rate is low (8.7%), his hard hit % is high, and he's been aided greatly by fortunate hit and strand rates. His lack of dominant stuff appears to be catching up to him, thus the time to sell on Hendricks is now before the numbers and market catch up to just how below average he is.
--------------------------------------------------------------------------------------
A cheaper and better alternative to CABLE
TV Programming
A GREAT OFFER FOR SPORTSWAGERS READERS:
We're offering a better and cheaper alternative to cable TV. You will literally save thousands of dollars. If you're sick of paying a fortune for programming that you don't even want or need, this is for you. All pro sports -- EVERY GAME, tons of college football and basketball games and tons of regular programming (non-sports). Over 2500 channels all in HD for a mere $20 per month. You have to be nuts not to get it.
Our Pick
ST. LOUIS -1½ +170 (Risking 2 units - To Win: 3.40)