Dodgers +160 to win the World Series
Pinnacle +120 ET365 +160 SportsInteraction N/A 5DIMES +130 Bookmaker N/A

Posted Oct 12 before Game 1 of the NLCS
Dodgers +160 to win the World Series
7:30 PM EST. First things first. The Dodgers are -230 or thereabouts to get by the Braves and should that come to pass, we'll have the Dodgers versus the Rays or Astros at +160 to win the series. Here's the thing though, in order for us to be free-rolling on the Dodgers, we just need them to beat Atlanta and then we can buy out of liability. You see, the Dodgers will be at least a -180 favorite to beat the AL rep in the World Series. At Pinnacle Sports, Dodgers are +120 to win the World Series but at BET365, we found them at +160.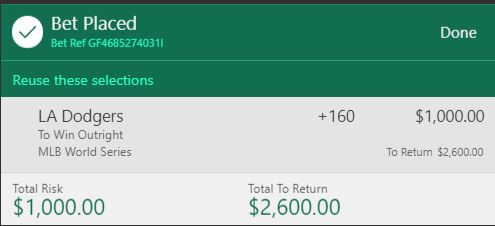 Again, we just need them to beat the Braves and then we'll buy out of liability should that occur. Of course, things can change but that is the plan for now. We'll therefore make this a four-unit bet on the Dodgers to win the World Series.
Los Angeles Dodgers (43-17) vs. Atlanta Braves (35-25)
The Dodgers are back again. It's their fourth NLCS in five years. That familiarity could hardly contrast more with that of the Braves, who are in their first Championship Series since 2001. Atlanta has lost eight Division Series in the 18 seasons between, plus a Wild Card Game. The Dodgers themselves were responsible for two of those LDS defeats, in 2013 and 2018.
These two teams are postseason kindred spirits in one aspect, however: Not winning it all. This is becoming somewhat tiresome for the Dodgers, who have rolled to eight straight NL West titles only to find themselves back at the bottom of the hill with a rock crushing them. The Braves at least won the World Series once during their period of utter dominance of the NL East. It's quite possible we look back on this Dodgers run in a decade or two with the same disbelief at how the 1991-2005 Braves could win 14 of 15 NL East titles, including six 100-plus win seasons, and only come away with one ring.
PROJECTED PITCHING MATCHUPS
Game 1: Walker Buehler (36 ⅔ IP; 3.98 xERA) vs. Max Fried (56 IP; 3.23 xERA)
Game 2: Clayton Kershaw (58 ⅓ IP; 3.40 xERA) vs. Ian Anderson (32 ⅓ IP; 3.19 xERA)
Game 3: Tony Gonsolin (46 ⅔; 3.55 xERA) vs. Kyle Wright (38 IP; 6.05 xERA)
Game 4: Dustin May (56 IP; 4.36 xERA) vs. Bryse Wilson (15 ⅔; 5.49 xERA)
Game 5: Julio Urías (55 IP, 4.84 xERA) vs. Josh Tomlin (39 ⅔ IP; 4.70 xERA)
Game 6: Walker Buehler vs. Max Fried
Game 7: Clayton Kershaw vs. Ian Anderson
This is the pure chalk matchup by the seedings, and yet the Dodgers are still favored to beat the second seed two-thirds of the time. Before the season started, Atlanta was projected for a third-place finish with 83 wins. Los Angeles was a full 20 wins ahead, a virtually unprecedented mark. There are reasons to believe Atlanta has a better chance than the projections suggested, many of which can be found towards the top of their lineup.
Atlanta's offense scored a single run fewer than the Dodgers' during the regular season. Both teams scored 5.8 runs per game, comfortably outstripping the rest of the league. They match up as evenly as you might expect. In 2020 Atlanta has had the stronger top of the lineup, but as good as Freddie Freeman, Marcell Ozuna and Ronald Acuña Jr. have been, it's difficult to argue they have a significant edge over Mookie Betts, Corey Seager and Justin Turner. Furthermore, those facts do not take into consideration park factors. In that regard, Atlanta played most of its games at hitter friendly venues while the Dodgers played most of theirs at pitcher friendly parks. Thus, it is NOT as evenly matched as one might expect.
That's also overlooking reigning MVP Cody Bellinger and Max Muncy, both of whom have had disappointing offensive seasons by their standards but remain huge threats. The Dodgers have a distinct advantage behind the plate over most opponents with Will Smith but Travis d'Arnaud has had a similarly excellent run and maintained it into the postseason. Advantages here do not fall on either side with the big names, but rather the patented Dodgers depth. Chris Taylor and Enrique Hernández give them incredible flexibility in the event of an injury, or if they want to shuffle their defensive configuration.
The offenses might look similar by run production, but they get there in different ways. Atlanta is aggressive, going after the first pitch more often than any other team with an overall swing percentage that ranks first among playoff lineups. That could cause trouble for Kershaw (not likely but it could), who often tries to steal called strikes on the first pitch. The Dodgers rarely chase, with a 23.2% O-Swing rate (outside the zone) that led the National League. That produced a 20.3 percent strikeout rate that was third-best in baseball, all the more remarkable for the fact that the Dodgers also led baseball in Isolated Power (ISO) at .227.
Even though they have shut out their opponents in four of five games this postseason, the difficulty for Atlanta naturally comes with the rotation that will try to stop that fearsome combination of discipline and power. It's Fried, Anderson and then trouble. Yes, Kyle Wright did help the Braves to sweep the Marlins with six scoreless innings. The difference between the Marte-less Marlins and these Dodgers is colossal. Miami ranked 23rd in Deserved Runs Created (DRC+), lagging almost 120 points of OPS behind the Dodgers. In theory, Atlanta doesn't need to do anything but win the Fried and Anderson starts. In practice, that means a seven-game series where they can't afford a short outing from either of those two, not least because one game at minimum is likely to be bullpen-heavy by default. It also means placing an awful lot of faith in a rookie who has eight career starts in the majors – including his two postseason appearances.
If we want to poke holes in the Dodgers, Buehler is far from his dominant best as blisters continue to blight his season. Kenley Jansen is barely a closer at this point, his grip on that role so tenuous he was bailed out last week by Joe Kelly, of all people. Speaking of the bullpen, Dodger fans will be covering their eyes every time Dave Roberts comes to make a pitching change, waiting for the latest blunder in an ever-growing catalogue of tactical errors.
It's picking nits. That's what you have to do with the Dodgers: Manufacture concern. We can raise the 'concern' that they don't have a true relief ace, a Josh Hader or Liam Hendriks, if we don't dwell on their bullpen possessing the best ERA in the NL by three-quarters of a run. There are areas where one can argue Atlanta can match Los Angeles, but it's near impossible to point to any area where they definitively beat them. There's no debate over the best team in the National League. That title has belonged to the Dodgers for at least two seasons, and arguably twice as long if one looks past the win column to their underlying numbers. If they lose this series, they'll lose it because it's first to four wins and it's baseball. Seven games favors them. The lack of off days favors them. They're just waiting for in-game variance to not bounce poorly against them.
--------------------------------------------------
A cheaper and better alternative to CABLE
TV Programming
A GREAT OFFER FOR SPORTSWAGERS READERS:
We're offering a better and cheaper alternative to cable TV. You will literally save thousands of dollars. If you're sick of paying a fortune for programming that you don't even want or need, this is for you. All pro sports -- EVERY GAME, tons of college football and basketball games and tons of regular programming (non-sports). Over 2500 channels all in HD for a mere $20 per month. You have to be nuts not to get it.
Our Pick
Dodgers +160 to win the World Series (Risking 4 units - To Win: 6.40)