PGA Wagers
BEST LINES: Pinnacle SportsInteraction 5DIMES
Posted Wednesday, March 13 at 4:30 PM EST.
Cutoff time for this event is March 14 at 7:00 AM EST.
THE PLAYERS Championship
This Week's Course Preview
The fifth major requires a host venue befitting such a status, and happily TPC Sawgrass has got game in spades. The architect is the maniacal Pete Dye, and while arguably this isn't his most devilish work, there is still plenty to confuse the minds of the greatest golfers on the planet. Unlike the modern method of toughening a golf course – adding yards and yards to each hole, TPC Sawgrass has been tweaked but remained true to its original set-up for the best part of four decades. It may be a short track by contemporary standards at roughly 7,200 yards for its Par 72, but the clever doglegging holes – no two consecutive holes play in the same direction – ensure that bombers don't have things all their own way.
There are lots of water hazards, deep British-style bunkers and waste areas that will punish any hitting that is even slightly off-line. And if that wasn't enough, the Bermuda greens are among the smallest on Tour, and run at a fair lick of around 13 on the stimpmeter in all weathers. TPC Sawgrass features a number of famous holes, including the drivable Par 4 at 12 where the green slopes dramatically into the drink, but none captures the imagination quite like 17, home to the iconic island green. This Par 3 is arguably the most legendary hole in golf; surprising, really, given that a 137-yard approach shouldn't warrant such focus.
However, with swirling cross winds, a baying amphitheater of spectators and the ghosts of yesteryear, it's no wonder the players can temporarily lose their minds. It's always special when the PLAYERS Championship rolls around so we can enjoy Sawgrass once more; not bad for a stretch of land purchased for $1 by former commissioner Dean Bema prior to course construction. Make no mistake that TPC Sawgrass is the toughest course ON TOUR to make the cut at.
--------------------------------------------------------
Where to Play Fantasy Golf for the THE PLAYERS Championship this Week

As a tournament of some prestige, it's great to see the DFS sites treating THE PLAYERS Championship with the respect it deserves with a varied and lucrative slate of contests.
PGA $1M Fifth Major Classic: Got a spare $10? Why not invest it in this contest, where the winner will trouser a cool $250k come Sunday evening. The first 30 players home will win a minimum of $1k.
PGA $400k Club Twirl: If you want to battle it out in a smaller field contest, for $44 here you could tackle 10k other players for the chance to win a rather handy $100,000!
--------------------------------------------------------
What to look out for:
Avoiding trouble: that's about the size of the task at TPC Sawgrass! Last year's edition was a largely wind-free affair with soft greens, and that made matters rather easier than normal: Webb Simpson's winning mark of -18 was the lowest here in more than 20 years. How this year's edition pans out we will have to see, but clearly there could be some low scores if the rain does come at the weekend: there were countless rounds of 66 or better last year, although that again was something of anomaly.
Typically, length off the tee is an advantage, and between 2014-17 all four champions at Sawgrass ranked inside the top-20 for Driving Distance. Simpson opted for a different strategy, choosing to take lots of irons off the tee (he found 82% of fairways) and thus keeping his GIR count nice and high.
Looking back to the 2017 vintage, we see a 1-2 for Si-Woo Kim and Ian Poulter too; neither of whom we would describe as bombers by any means. So, we can kick to the curb any ideas of distance being relevant (or otherwise). One stat that is key is Scrambling, aided by some strong action with wedges in hand. Greens and fairways will be missed, and so extricating yourself from tricky positions is key. Course form is another red herring as well, with Si-Woo only playing Sawgrass once prior to his win (finishing T23), while Simpson's formline at this track read 16-66-MC-15-MC-69. So again, not necessarily a sure sign of success but then, the former US Open champion had recorded a trio of top-10'ss in his prior six starts worldwide, so clearly form – and confidence – will be key in taming Pete Dye's masterpiece this week.
---------------------------------------------
Here are our recommendations for Fantasy and/or wagering
Byeong Hun An 100-1
If you can finish inside the top-10 of a strong field event while losing strokes with the putter, there's one conclusion we can draw: from tee-to-green, Byeong Hun An was exceptional at Bay Hill. That's backed up by the stats too, so the Korean can be confident heading to Sawgrass. An will need to find something with the flat stick in the next few days, but if he can connect all parts of his game then another strong showing is in the offing. Even if he does miss the greens, we would expect the PGA TOUR's premier chipper to still make magic happen. Here are some of his notable stats this season:
SG: Around-the-Green –1st
SG: Tee-to-Green – 4th
Scoring Average – 46th
---------------------------------------------------
Patrick Cantlay 40-1
If you find yourself with some cash to burn in the upper-mid price range, the sadistic Cantlay could be a wise selection. Why is he such a sadist? Well, that's simple: he seems to love playing golf at Pete Dye courses.
He finished T7 at the RBC Heritage last year and T15 in the Travellers Championship, both played at Dye tracks, and has banked back-to-back top-25s at Sawgrass too, including sitting T2 here at the halfway stage in 2018: no mean feat (take a look at the course history of most to see why). The West Coast boy has played well on Bermuda before, and so he could be a high-salaried sleeper to cherish in Ponte Vedra. What we mean by that is most won't use him because he's high priced and isn't close to being known as the others in his price range. Cantlay chooses his events carefully and is extremely worthy of getting behind. Here are some of his notable stats this season:
Scoring Average – 2nd
SG: Tee-to-Green – 7th
Par 4 Birdie or Better Leaders – 10th
----------------------------------------------------------
Hideki Matsuyama 40-1
We're going to stick with Hideki here after playing him last week. He made the cut but had very little exposure because he was never really a threat. Some will even suggest that he's having an off-year but he's not. How do you solve a problem like Hideki Matsuyama? The Japanese ace has been gaining strokes on the field from tee to green for weeks on end, and once again at Bay Hill he delivered a clinic in ball striking.
But, yep, you're right: if you can't sink a putt then what's the point? Well, that's a fair point, but consider what we know. Underlying tee-to-green form often acts as a prerequisite for good form, whereas a hot hand with the flat stick tends to be rather more transient. So, if Matsuyama has a good session on the practice green these next few days and something clicks, he should go very nicely indeed. It's all a big 'if', but in that stacked $8,000-$9,000 bracket, Matsuyama could be low-owned and yet deliver a big performance. Matsuyama is rarely priced in this range - at both the sportsbooks and DFS pools- but he's still one of the best and can break through with the putter at any time. Here are some of his notable stats this season:
SG: Tee-to-Green – 3rd
Scrambling – 4th
SG: Around-the-Green – 21st
----------------------------------------------------------
Chez Reavie 175-1
There's that old saying that you can't keep a good man down, and so you wonder how long it will be before Chez Reavie bursts back into form. The pint-sized 37-year-old enjoyed has enjoyed many fine weeks on the Tour over the years and this season is no different, as he finished T3 at the Hawaii Open and T4 at the Phoenix Open. Reavie has missed the cut in his last two starts and has skipped the last two events so it's safe to assume that he's been working hard behind closed doors in preparation for this event. Last year at this event, Reavie shot 71, 71, 69 and 69 respectively in the four rounds and thus went -8 under. For a player who specializes in finding fairways (3rd on Tour for Driving Accuracy) and making GIR (18th) Sawgrass should reward his unique skill set.
---------------------------------------------------------
Si-Woo Kim 100-1
The former champion has been in good form recently, and that should hopefully give him the confidence required ahead of an assignment at a layout that suits his eye. T4 at Pebble Beach, the Korean followed up with solo third at the Genesis Open, and while he missed the cut at Bay Hill, the damage was done in his opening 78; the follow-up 72 would have restored some confidence. With two PGA TOUR titles to his name at the age of 21, it would be fair to suggest that Si-Woo is one of the most promising golfers on the planet.
As is customary with such talented sorts, you can never be sure what you are going to get from them one week to the next, but we do know that Si-Woo, if he starts well, can contend here. Si-Woo will win plenty of tournaments in his career; could he become a two-time PLAYERS Championship winner this week? He's worth a look.
Lucas Glover 66-1
We want guys that will make the cut obviously and one has to trust that Glover will. A former US Open champion in good form but without a great track record at TPC Sawgrass….sound familiar? That's the method that worked out well for Webb Simpson 12 months ago, so perhaps Lucas Glover could follow a similar path to glory this week. He's certainly playing well enough, with his usual precision approach play matched with some slick Bermuda putting of late, which has helped him to back-to-back top-10s at the Honda Classic (T4) and Arnold Palmer Invitational (T10). Glover's form at Sawgrass is boom-and-bust, but there's a pair of top-10s in there and so everything is coming together nicely for him. Here are some of his notable stats this season:
Greens in Regulation – 4th
Par 4 Scoring Average – 6th
SG: Tee-to-Green – 16th
-----------------------------------------------------------
Matt Wallace 90-1
No chance are we coming off Wallace this week at this price. Dude is coming on strong and was in second place for a good portion of last week's event. Wallace also rode sharp irons to a T20 in his debut at PGA National. DFS players are encouraged to make room for the Brit, as he's going to appear in all of the biggest events this year and he's serious about winning. Wallace is just 28-years-old and has four International victories. In his three events on the MAIN TOUR this year, the Mexico Championship, Honda Classic and last week at Bay Hill, he finished T33, T20 and T6, respectively. You see a pattern there? We sure do. He's improved every week and he's ready to pop anytime now.
-------------------------------------------------------------
Head-to-head Matchups for the THE PLAYERS Championship
Unless otherwise stated, the head-to-head match-up will be bet at Pinnacle, BET 365 or 5DIMES
HEAD-TO-HEAD MATCHUPs below are for 72 holes:
This week's H2H's are:
H2H
Lucas Glover -120 over Billy Horschel (available at BET365)
This is in our always humble opinion the steal of the week in H2H. We wrote about Lucas Glover above but there's plenty more, Glover's usual precision approach play matched with some slick Bermuda putting of late,
figures to serve him well here. He ranks 4th ON TOUR in Greens in Regulation, 6th ON TOUR in Par 4 Scoring Average and 16th ON TOUR in SG: Tee-to-Green.
Billy Ho hasn't missed a cut in 11 straight events. It's a streak that is unsustainable and while his putting is great, it's the other parts of his game that figure to get him into trouble this week. Billy Ho ranks 94th, 148th 136th and 160th respectively in Driving Accuracy, SG: Tee-to-Green, SG: Approach-The-Green and SG: Off-the-Tee. Those are some rather troubling rankings and as the courses get tougher, we can envision Horschel fading. He had a horrific final round at Bay Hill last week, which followed a big struggle on Day 3. Furthermore, we see that Pinnacle Sports has Glover a -146 favorite over Jordan Spieth and Tommy Fleetwood a -185 favorite over Billy Ho. That's important and valuable information too. This wager is available at BET365 (Risking 2.4 units to win 2).
#7022 Ian Poulter +102 over Webb Simpson Pinnacle
Ian Poulter is one of the best chippers in the business and should come to the fore at Sawgrass once again. The Englishman has twice been the bridesmaid at this layout, and he will be desperate to go one better this time out. There was a run of four top-10 finishes in a row prior to the Arnold Palmer Invitational, and even there he didn't disgrace himself in a T23 finish. When you watch Poulter play, you're looking for him to find that fire he gets when playing in the Ryder Cup. If he can find that intensity this week, he could be a real contender and he's taking back a tiny tag against last year's TPC Sawgrass winner. Man, are we licking our chops over that.
Webb Simpson came into last year's event with no pressure and no expectations. This week, he'll arrive here and every media outlet in the world will want an interview or something. The dynamics this time around for Simpson are the complete opposite from last year. Winning twice at this iconic venue is pretty much out the question, as only Tiger has done so in the past 25 years (not back-to-back, twice overall). Justin Thomas remarked that "We will never see TPC Sawgrass play as easy as it did on Sunday of last year. The planets were aligned just right for Simpson to slay the course, as he led the field in fairways, Strokes Gained Putting and Par 4 and Par 5 Scoring. He also broke a few records while winning comfortably. Now the market will see last year's winner and destroyer of the course as a dog against Ian Poulter and they'll eat it up. Don't follow suit. The clear prudent wager here is Poulter and frankly speaking, we wouldn't even include Simpson in any DFS because he'll be highly owned and he may just do what most past winners do the following year after winning and that's not make the cut (Risking 2 units to win 2.04 units).
FANTASY: Horses for the Course:
Justin Thomas or Brooks Koepka
With Rory McIlroy playing some great golf but unable to get a win over the line, and with Dustin Johnson failing to record a single top-10 at Sawgrass in the past decade, it's back to Justin Thomas we go this week.
And why not? JT plays a lot of his best golf on Bermuda, specifically on the East coast, and he would love nothing more than to add the PLAYERS Championship title to his already stacked collection. Thomas has got the ideal game for Sawgrass given that his tee-to-green play has been sublime in 2019 thus far, and as somebody with a bit of magic in his short game, we won't be fearing the odd missed green from the 25-year-old. He has a home in Jupiter these days, and it's not a huge leap of faith to see Thomas celebrating a victory with friends and family come Sunday evening.
Here are some of his notable stats this season:
Par 5 Birdie or Better Leaders – 1st
Scoring Average – 1st
SG: Tee-to-Green – 2nd
The other Horse is Koepka, who just happens to be a guy who is the current PGA Tour Player of the Year. A guy who won two majors last year and a guy that who shot the course record at TPC Sawgrass last year. Every time Brooks Koepka's stock drops a bit, he comes up with a monster event and it would surprise us not if he came up big here.
Mix and match any or all of the above with your own to create a DFS roster to look something like the samples below: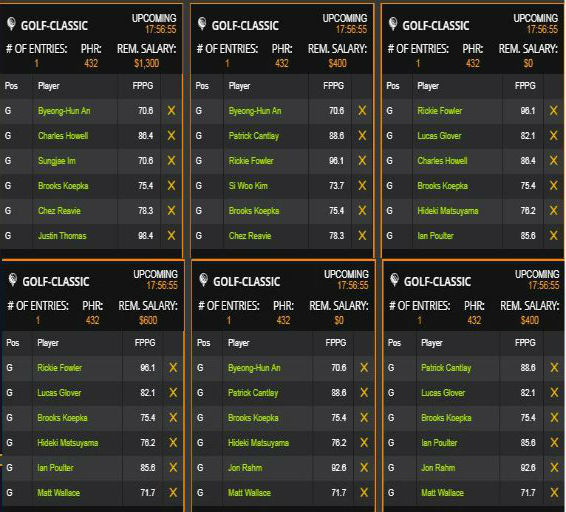 Open an account today at Pinnacle Sports and take advantage of their -104 style pricing on sides and totals, which is 60% better than other sportsbooks.
-----------------------------------------------------------------
Our Pick
PGA Wagers (Risking 4.4 units - To Win: 0.00)